Polyurethane Resin LED Applications, 2 Part, Semi-Rigid, Packet, 250 g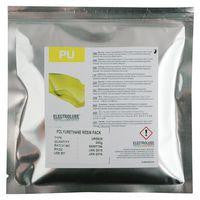 Polyurethane Resin LED Applications, 2 Part, Semi-Rigid, Packet, 250 g
Sold out
Original price
$49.14
-
Original price
$49.14
Description

UR5635 and UR5634 Polyurethane Resin
UR5635 and UR5634 are a two-part, semi-rigid polyurethane resin formulated with a hazy/cloudy(UR5635) or an optically clear (UR5634) appearance. The product is ideal for use in protective applications, particularly for dispersing light. Due to a carefully selected blend of components, an extremely durable, low viscosity system is achieved which can be used for a wide variety of applications.
Resin Packs
When in Resin pack form, the resin and hardener are mixed by removing the clip and moving the contents around inside the pack until thoroughly mixed. To remove the clip, remove both end caps, grip each end of the pack and pull apart gently. By using the removed clip, take special care to push unmixed material from the corners of the pack.

Mixing normally takes from two to four minutes depending on the skill of the operator and the size of the pack. Both the resin and hardener are evacuated prior to packing so the system is ready for use immediately after mixing. The corner may be cut from the pack so that it may be used as a simple dispenser.
---
Properties

 Hazy/cloudy white translucent appearance or clear; ideal for dispersing light in LED applications
1:1 by volume mix ratio; aids ease of processing
Does not contain IPDI; low hazard material
High resistance to weather/UV, acids, and alkalis, water and mold growth; suitable for a range of environments
Approvals RoHS-2 Compliant (2011/65/EU): Yes
---

Typical Properties

Liquid Properties: Base Material Polyurethane
Density Part A - Resin (g/ml) 1.04
Density Part B - Hardener (g/ml) 1.16
Part A Viscosity (mPa s @ 23C) 900
Part B Viscosity (mPa s @ 23C) 1200
Mixed System Viscosity (mPa s @ 23C) 1050
Mix Ratio (Weight) 0.90:1
Mix Ratio (Volume) 1:1
Usable Life (20°C) ~15 mins
Gel Time (23°C) ~20 mins
Cure Time (23 °C) 24 hours
Cure Time (60 °C) 4 hours
Colour Part A - Resin Hazy/cloudy White or clear
Colour Part B - Hardener Clear
Storage Conditions Dry Conditions: Above 15C, Below 35C
Shelf Life 12 months
Spec sheet for milky resin UR5635:- Spec Sheet
Spec Sheet for clear resin UR5634:- Spec Sheet 
---
Important notes

Please contact us for further info on our LED Epoxy
We ship items in stock the same day from Knoxville, Tennessee, United States.
Bulk Pricing Available on Request
Shipping restrictions

We cannot ship rigid items over 2.4m (8ft) in length due to freight restrictions. These products are offered for customer pickup only. Please refer to our Shipping Policy for further information.