Slimline 5-Channel RGB+TW LED Dimmer with Casambi~ Model LINE-5CV-CASAMBI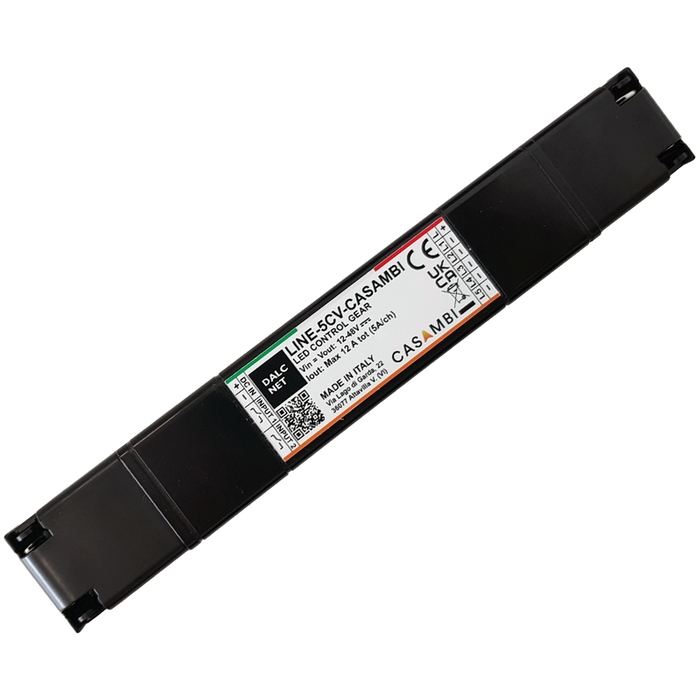 Slimline 5-Channel RGB+TW LED Dimmer with Casambi~ Model LINE-5CV-CASAMBI
Original price
$0.00
-
Original price
$0.00
controller only ~ power supply, LEDs and all other accessories are sold separately
Description

The slim LINE-5CV-CASAMBI LED Dimmer is a compact and versatile 5-channel LED dimmer that combines CASAMBI wireless technology with advanced features for controlling constant-voltage LED strips.

The space-saving design which measures only 186x29x22mm (7.32" x 1.15" x 0.87") allows you to mount this 5-channel LED controller into small spaces or embed it into the luminaire or lighting channel itself. This RGB+TW dimmer offers convenient control through the Casambi smartphone app as well as optional push button inputs for programmable manual control. You can customize and configure this wireless dimmer using the Casambi to create captivating lighting effects with configurable scenes in various color modes.

The dimmer supports a maximum load of 5A per channel or 120W at 24VDC and utilizes a flicker-free PWM dimming at 4kHz. It also incorporates protective functions for additional safety and operates within a wide temperature range of -10° to +60°C.

The 5 available output channels on this wireless dimmer can be configured to suit your specific application. This means that you can specify the same controller for an entire project and use the same model to control almost all different types of LED lights in your installation.

The most basic mode is the 5-channel LED dimmer which allows you to independently control the brightness of up to five separate LED strip lights. Alternatively, you can use the LINE-5CV-CASAMBI as a dual tunable white dimmer allowing you remotely control two separate tunable white (TW) lighting zones with one controller.

If your project involves RGB color-changing lights, then this 5-channel RGB LED controller is the answer: With five output channels, you can use this dimmer to control RGB, RGB+W, RGB+W+W or RGB+TW LED strip configurations.

Making this small 5-channel LED dimmer even more versatile is the fact that it offers two programmable push button inputs. These inputs can be configured to manually control any device on the Casambi wireless network.

Customize your lighting setup through the Casambi App with brightness adjustments, scenarios, animations, timers, and more. The LINE-5CV-CASAMBI LED dimmer provides exceptional control and versatility for a variety of applications.
---
General specifications

Input Range: 12-48V DC
Maximum total current: 12A
Maximum current per channel: 5A
Output channels: 5-channel (5xW, TW+TW, RGB, RGB+W, RGB+W+W, RGB+TW)
Input: 2x PUSHBUTTON
Bus: CASAMBI
Working Temperature Range: -10/+60°C
Dimensions: 186 x 29 x 22mm (7.32" x 1.15" x 0.87")
---
Downloads
---
Important Notes

Items in stock are shipped the same day from Knoxville, Tennessee, United States
Bulk pricing is available on request
Shipping restrictions

We cannot ship rigid items over 2.4m (8ft) in length due to freight restrictions. These products are offered for customer pickup only. Please refer to our Shipping Policy for further information.