0.39" Recessed LED Channel ~ Model Smart-In10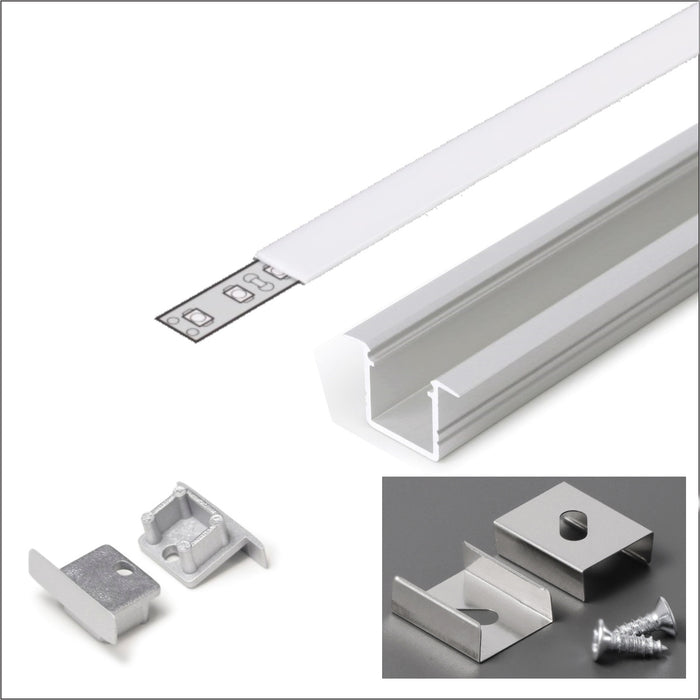 0.39" Recessed LED Channel ~ Model Smart-In10
Original price
$1.22
-
Original price
$340.34
We sell diffusers and all other Smart-In10 accessories separately
Description

The Smart-In10 0.39" Recessed LED Channel has a wide range of applications. Smart-In10 is ideal for stairs, furniture and interiors in which lighting should be a subtle decoration. By using an LED strip with a high population density of LEDs and an opal cover, it is possible to achieve the effect of a dot-free continuous line of light without visible points.

The Smart-In10 recessed LED channel has a Slick socket that allows you to clip in the A Slide cover. This is important when you cannot slide the cover into the profile while mounting it in a particular place. The C2 Click cover is easy to assemble and disassemble.

This recessed aluminum channel serves as a heat sink for the LED strip and helps to distribute the heat generated from the LEDs which in turn helps prolong the life span of the LED strip lights.

The Smart-In10 0.39" Recessed LED Channel is available as in kit form (profile, opal cover, end caps and mounting clips) or as the basic profile only for you to assemble as required. Note that the kit does not include LED strip.
---
General specifications

Overall dimensions 0.74" x 0.472"
Maximum LED strip width: 10mm
Suitable for use in plasterboards and drywalls - does not affect the structure of the board
Also used in furniture
You can produce a continuous line of light by combining an opal cover with the recommended LED density of 120 LEDs/m or more.
Compatible with Slick socket type covers
---
Downloads
---
Important notes

We sell LED strips, covers, mounting brackets, end caps, shelf/sign panels, and other accessories separately. Select the available components below.
If you use raw or natural profiles or channels, please note that they will oxidize over time when used outdoors since they are not anodized. Therefore, they need to be coated or painted.
For your convenience Wired4Signs USA can cut LED profiles according to your requirements. Please leave instructions in the order comment box.
We can also assemble a plug and play light fitting with this profile according to your specifications.
If you cut LED profiles and covers, please note that we won't be able to refund or replace them.
We ship items in stock on the same day from Knoxville, Tennessee, United States.
Bulk pricing is available on request
Shipping restrictions

We cannot ship rigid items over 2.4m (8ft) in length due to freight restrictions. These products are offered for customer pickup only. Please refer to our Shipping Policy for further information.