Bright RGB IP44 LED Strip (12V) ~ Verbena Series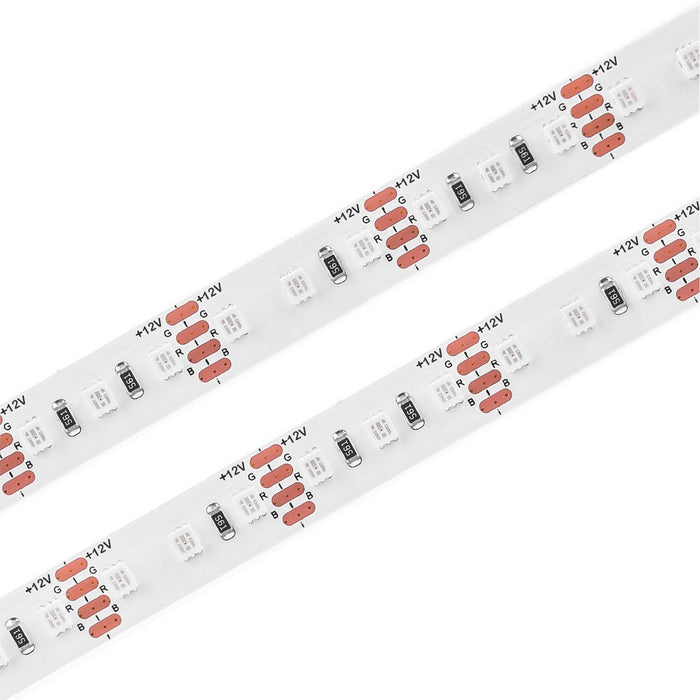 Bright RGB IP44 LED Strip (12V) ~ Verbena Series
Original price
$0.00
-
Original price
$0.00
LED strip only ~ Profile, channel, covers, end caps and all other accessories are sold separately
Description

The Verbena Series bright RGB LED strip is a high-density strip with 120 LED's per meter, making it the ideal strip to be used when your application requires a strong and vibrant light output or to obtain a homogeneous (dot-free RGB, no visible pixels) appearance in LED Channel. It's available in both IP68 and IP44 ratings, which offers protection against splashes and moisture ideals both indoors and outdoors without any concerns.

This color changing 12v RGB LED strip is perfectly suited for indirect and cove lighting in domestic and commercial settings, as well as specific applications where color changing is desired such as stage lighting, bar area lighting, indoor playgrounds, and automotive accent lighting.

Additionally, this 12 volt LED strip has a dimmable feature that empowers you to adjust the brightness according to your preference. It also utilizes advanced technology, including a high-quality 3-chip RGB LED and a thick FPC (Flexible Printed Circuit) board. This 12v dimmable LED strip offers high energy savings without compromising on brightness, achieving an impressive LED strip efficiency of up to 49.8 lm/W.

The thermally conductive double-side adhesive tape makes installation incredibly easy, allowing you to effortlessly adhere the LED strip to any desired surface. Furthermore, if you require longer rolls of LED strip, we can provide custom-made options to meet your specific needs.
---
General specification

Supply voltage: 12V DC
IP ratings: IP44
LED density: 120 LEDs/m (36.5 LEDs/ft)
Wattage: 16.6W/m (5W/ft)
Light output: 826lm/m (251lm/foot)
LED strip efficiency: up to 49.8lm/W
Roll size: 5m rolls (16.4ft)
Cutting pitch: Every 25mm (0.98")
Designed and manufactured in Europe
Warranty: 3 Year (50 000 hour lifespan)
Combines well with our Oslo acrylic lighting tubes: Oslo, Oslo Mini, Oslo Doble
---
Downloads
---
Important notes

Attention resellers and manufacturers - Please contact us for competitive pricing on our Bright RGB LED Strip
Bright RGB LED Strip Stock Items Are Same Day Shipped From Knoxville, Tennessee, United States.
---
What makes us different from others?

High CRI LED Strip not made in China
Factory with over 20 years of experience in the lighting market
Carefully selected components from leading brands
Designed by engineers with many years of experience
All production batches go through a 5-step quality control
Our High CRI LED Strip rolls are available in 16.4ft and bulk led strip 328ft rolls(on demand) 
5year warranty
---
The natural color of light

A high color rendering index is friendly for eyes and gives true-color rendering of illuminated objects. The color rendering index (CRI) is much higher comparing to cheap products from Asia. Color rendering index CRI (Ra) in simple words measures the ability of a light source to accurately reproduce colors. A value of CRI = 100 is the maximum value and determines the ideal color rendering. In practice, CRI> 80 provides accurate color rendition for us to feel comfortable with as we see the colors of objects around us look natural. The cheaper LED strips have usually CRI under 70, the color of light irritates us and we stop recognizing the colors of well-known objects. Customers often refer to this as the "light like in the morgue". This phenomenon is often identified with the white cold color, but this is not the true reason - it is in fact the low CRI rating of cheap LED products.
Shipping restrictions

We cannot ship rigid items over 2.4m (8ft) in length due to freight restrictions. These products are offered for customer pickup only. Please refer to our Shipping Policy for further information.