Compact LED Step Lights Channel ~ Model Niza Eco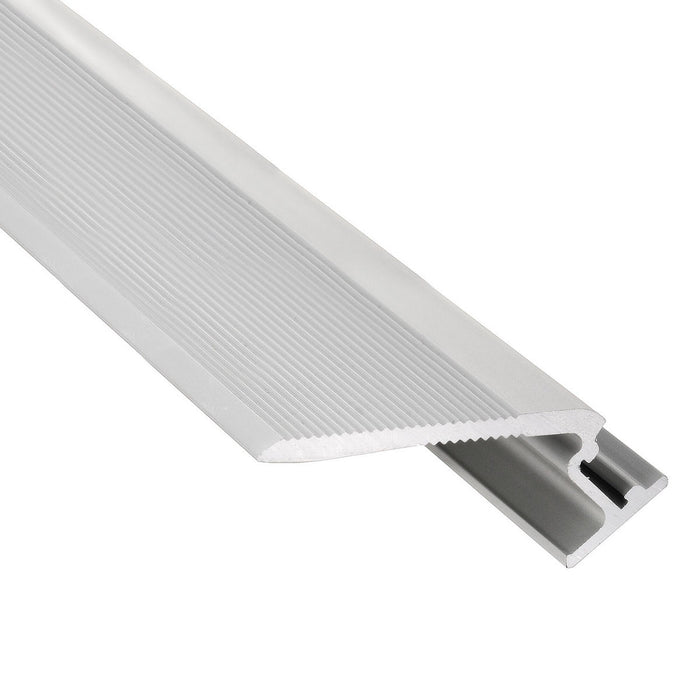 Compact LED Step Lights Channel ~ Model Niza Eco
Original price
$14.09
-
Original price
$93.99
Compact LED Step Lights Channel only ~ we sell diffusers and all other accessories separately.
Description

This simple LED step lights and wall lights channel is manufactured from high purity aluminum and available in anodized silver, or other colors on request. Its rubber anti-slip LED cover provides an IP20 rating while at the same time diffuses the LED light to offer a more homogeneous line of illumination on the stair tread.

The Niza Eco stair tread LED step lights and wall lights channel offers compact dimensions and an economical solution for lighting the front edge of stairs and steps. Illuminated stair nosings serve both aesthetic and functional purposes. Firstly, colored LED lighting can be used to match other lighting effects and add to the atmosphere of a room.

Functionally, they improve safety by preventing persons from tripping and they also highlight exit routes in public venues.
---
General specifications

Step LED light channel standard length: 2.4m (7.87ft)
Overall dimensions: 20.5mm x 53.5mm (0.80" x 2.10")
Maximum LED strip width: 8mm
---
Downloads
---
FAQ

Q: Do you have a step light profile with downward lighting as well as upward lighting?
A: Yes, try the Niza Duo stair tread LED profile which has two positions for installing LED strip lights.

Q: What function does LED illuminated step tread nosing serve?
A: Step lights create a soft line of light across the nosing of a stair. This provides clear marking for exit routes in public venues such as theaters, or can highlight a potential tripping hazard.

Q: Can my illuminated stair tread nosings be color-coordinated to match other lighting in the venue?
A: Yes, the LED strip diffuser for Niza Eco will take on the color of the LED strip used inside, even though it is an opal white color.

Q: What is the main advantage of the Niza Eco LED stair nosing profile?
A: Due to its compact dimensions it requires reduced material to manufacture, making the Niza Eco an economical step light profile compared to bulkier profiles.
---
Important notes

LED strip, covers, mounting brackets, end caps, shelf/sign panels and other accessories are sold separately from the aluminum profile. Therefore, select the available components below.
Please note that if you choose raw or natural profiles or channels, you will need to coat or paint them. Otherwise, they will oxidize over time in outdoor applications.
For your convenience Wired4Signs USA can cut LED profiles according to your requirements. Please leave instructions in the order comment box.
We can also assemble a plug and play light fitting with this profile according to your specifications.
We recommend double-checking the measurements before cutting LED profiles and covers to avoid any unnecessary loss. Please note that if you cut LED profiles and covers, we cannot refund or replace them.
We ship items in stock the same day from Knoxville, Tennessee, United States. Additionally, our team dedicates themselves to carefully packing and safely delivering all packages to their destination.
Bulk pricing is available on request. Moreover, for larger orders, we offer additional discounts and customized pricing to fit your project needs. All in all, please contact us to learn more about our bulk pricing options.
---
Common search terms

LED stair nosing, LED stair nosing lighting, LED deck step lighting, Step LED light, LED step lights, LED stair tread lights, Budget LED stair lights, Economy step lights
Shipping restrictions

We cannot ship rigid items over 2.4m (8ft) in length due to freight restrictions. These products are offered for customer pickup only. Please refer to our Shipping Policy for further information.