Configurable Push Button Input Module for Casambi ~ Model CBU-8PUSH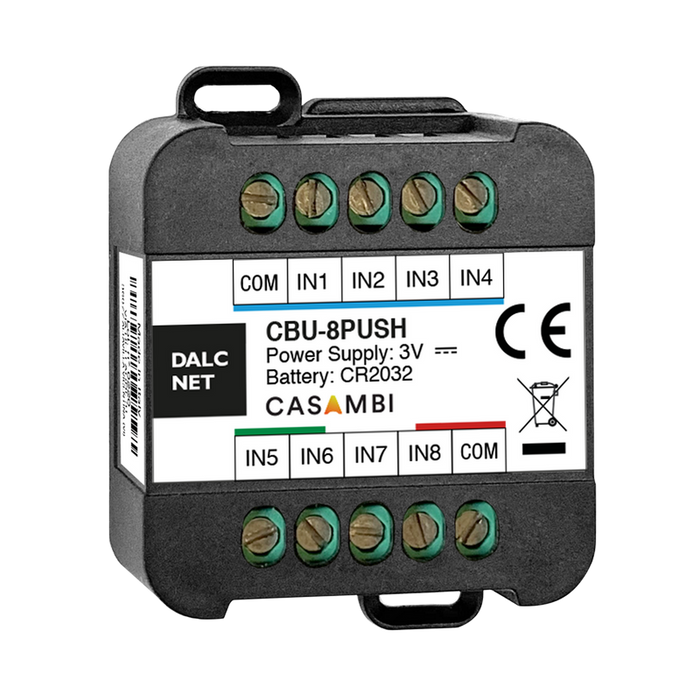 Configurable Push Button Input Module for Casambi ~ Model CBU-8PUSH
Original price
$0.00
-
Original price
$0.00
Controller only ~ powers supply, LEDs and all other accessories are sold separately
Description

The CBU-8PUSH by Dalcnet is a wireless push button input module for Casambi LED control systems. The Dalcnet CBU-8PUSH is a cutting-edge wireless user interface that can be configured by Casambi App to work with a variety of custom push button layouts. With its versatile functionality, the CBU-8PUSH allows for seamless control of your wireless luminaires.

Equipped with 8 button inputs, this wireless control device enables the connection of multiple push buttons, empowering you to effortlessly dim the luminaires, control individual groups or the entire network, and manipulate lighting scenes or animations with precision and ease.

This small Casambi push button input module works with any normally open (N.O.) button as an input control. This means that you can use the same switches as the rest of the electrical installation, allowing you to match the existing decor perfectly. To make installation easy, the push button module is small enough to fit inside a wall box and is battery powered so you don't even need to run power to it. Simply install a standard switch box (plastic recommended for the wireless signal) and hide the Casambi input control module inside.

You can set up the push button configuration with Casambi App, a user-friendly and intuitive software for LED lighting control, allowing you to effortlessly configure and customize all of these settings. With just a few taps on your smartphone or tablet, you can easily set and customize the desired lighting presets, create captivating lighting scenes, and bring your vision to life.

The CBU-8PUSH allows for four configuration options:

4-In: This mode uses four push buttons to independently control up to four Casambi luminaires or luminaire groups, or to select pre-programmed Casambi scenes.
Up & Down: The up & down mode uses eight push buttons configured as four pairs to provide dimming control for up to four luminaires, luminaire groups or scenes.
X7: In this mode, four inputs are used to select up to four luminaires, luminaire groups, or scenes. A further three push buttons are used for dim up, dim down, and switch-off control for the selected luminaire.
Xpress: The Xpress mode uses four inputs to select a luminaire, luminaire group, or a scene. The remaining four inputs are used in two pairs to control dimming up & down and tunable white from cool to warm.

These options make the CBu-8PUSH a highly versatile input controller for Casambi which uses your own buttons to seamless blend in with other control devices in the project and allows you to select your own push button layout.

Elevate your lighting experience, effortlessly control your luminaires, and create dynamic lighting environments with this wireless LED controller that perfectly complement any space.
---
General specifications

Model: CBU-8PUSH 
Input: 8x N/O push button
Bus: CASAMBI
Power supply: CR2032 battery
Working Temperature Range: -10/+40°C
Dimensions: 44 x 57 x 19mm (1.73" x 2.24" x 0.74")
---
Downloads
---
Important Notes

Items in stock are shipped the same day from Knoxville, Tennessee, United States
Bulk pricing is available on request
Shipping restrictions

We cannot ship rigid items over 2.4m (8ft) in length due to freight restrictions. These products are offered for customer pickup only. Please refer to our Shipping Policy for further information.