Edge-Lit LED Extrusion for 1/2" Acrylic Signs ~ Model New York Half-Round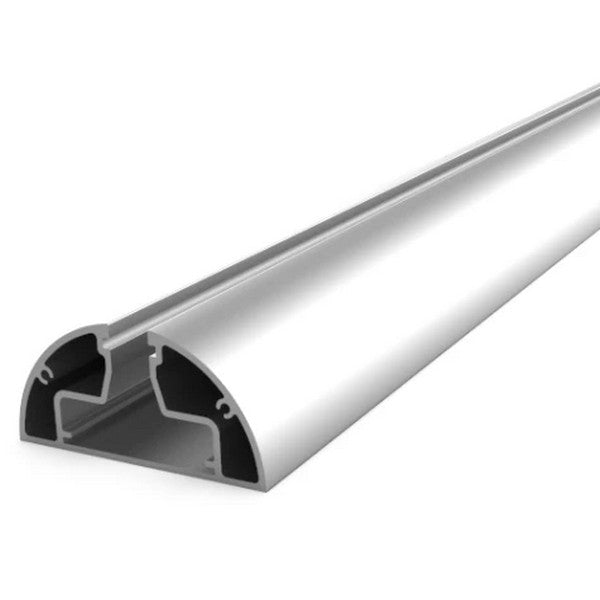 Edge-Lit LED Extrusion for 1/2" Acrylic Signs ~ Model New York Half-Round
Original price
$34.30
-
Original price
$34.30
Profile only ~ diffusers and all other accessories are sold separately

Description

This Edge-Lit LED Acrylic Signs  New York Half-Round has an opening width of .500" (+/- .038") which is designed to accept 1/2" acrylic material. The profile also has provisions for spring pins which will hold the sign-face material in place above the LEDs, preventing the weight of the sign-face material from damaging the LEDs.

Additionally, this Edge-Lit LED Acrylic Base Channel is finished off with optional endcaps or endcap mounting brackets and screws.

Moreover, the Edge-Lit LED Acrylic Signs  New York Half-Round is a versatile lighting solution that can be used for a variety of applications. Its sleek design and durable construction make it ideal for both indoor and outdoor use, while its customizable endcaps and mounting brackets allow for easy installation and maintenance.

With its innovative spring pin system, this profile ensures that the sign-face material stays securely in place, providing a seamless and polished finish to any LED sign base, RGB light decor or display.

The New York profile is also available in a Quarter-Round model.
---
General specifications

Material: Aluminum
Overall dimensions: 82.55mm x 39.68mm (3.25" x 1.56")
---
Downloads

New York Half Round cut sheet
---
Typical Applications

LED edge-lit desktop applications
LED edge-lit acrylic sign hanging from ceilings
LED edge-lit projecting sign-mounted to walls
LED edge-lit exit sign
LED edge lighting plexiglass
LED edge-lit acrylic sign
LED glass edge lighting
acrylic led sign base
---
Important notes

We sell LED strips, covers, mounting brackets, end caps, shelf/sign panels and other accessories separately from the aluminum profile. Therefore, please select the available components below.
Please note that in outdoor applications, raw or natural profiles or channels will oxidize over time unless they are coated or painted, as they are not anodized.

For your convenience Wired4Signs USA can cut LED profiles according to your requirements. Therefore, please leave instructions in the order comment box.

We recommend double-checking the measurements before cutting LED profiles and covers to avoid any unnecessary loss. Please note that if you cut LED profiles and covers, we cannot refund or replace them.
We ship items in stock the same day from Knoxville, Tennessee, United States. Additionally, our team dedicates themselves to carefully packing and safely delivering all packages to their destination.
Bulk pricing is available on request. Moreover, for larger orders, we offer additional discounts and customized pricing to fit your project needs.
---
Common search terms

Edge lit LED extrusion, LED edge lighting channel, LED edge lit acrylic sign channel, Edge lit sign, Lit acrylic sign channel, LED glass lighting, Edge lit glass channel, Edge lit glass shelves

Shipping restrictions

We cannot ship rigid items over 2.4m (8ft) in length due to freight restrictions. These products are offered for customer pickup only. Please refer to our Shipping Policy for further information.