Flood and Water Leak Detection Sensor ~ floodSensor by BleBox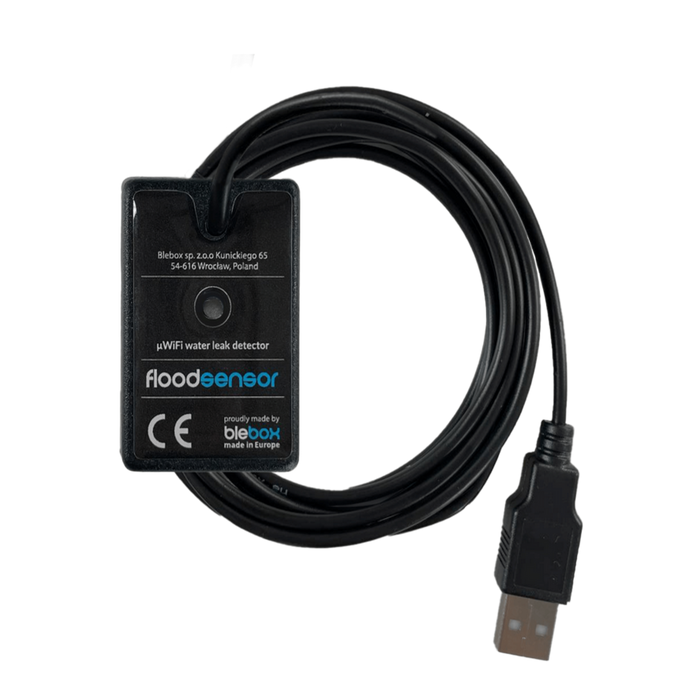 Flood and Water Leak Detection Sensor ~ floodSensor by BleBox
Original price
$0.00
-
Original price
$0.00
Flood and water leak wifi sensor only ~ all other components are sold separately
Description

The floodSensor is a compact and miniature WiFi-enabled flood and water leak detection sensor by BleBox designed to protect your home from potential flood and water damage. With its advanced features and reliable performance, it comes equipped with a built-in speaker that provides sound notifications to alert you, even to the smallest amount of water. 

The floodSensor can function without the need of an internet connection. You can receive push notifications on your phone, ensuring that you never miss an important alert, even when you're away from home. Thanks to the free BleBox cloud and the wBox application, you can remotely monitor and receive alerts from anywhere around the world.

The floodSensor integrates seamlessly with other BleBox devices, enabling wireless control of up to 30 devices. Its standout feature is the ability to provide historical data with interactive charts, allowing you to track and analyze past incidents. The BleBox cloud offers a comprehensive yearly history, and advanced users have the option to export data to a ".csv" or ".xlsx" file for further analysis or storage.

The floodSensor is resistant to immersion, making it suitable for use in various areas of your home. You can place it in the bathroom, kitchen, near the washing machine, under the sink, in the boiler room, at the aquarium, or even under the bathtub. 
---
General specifications

Power supply: USB-A or 5-24V DC from an external power supply
Energy consumption: < 1W
Output type: open-drain, ground control (NO with software NC mode)
Maximum load: 6W
Type of measurement: flood detection
Signaling: 4kHz 75dB buzzer during flooding, iOS/Android notifications
Controller operating temperature: from -20°C to 50°C
Dimensions: 31 x 45 x 15 mm (1.22" x 1.77" x 0.59")
Housing: high quality ABS plastic
Mounting method: double-sided mounting tape, installation in a place of expected flooding
Protection Rating: IP55
Cable length: 2 meters
Antena: integrated
Communication standard: μWiFi, compatible with WiFi, 802.11g
Transmission type: bi-directional, encrypted
Encryption: WPA2-PSK and authenticated encryption with associated data (AEAD)
Mode: direct connection (as Access Point), Wi-Fi connection via a standard router, connection with access from any location in the world (requires only access to the Internet)
Radio frequency: 2.4 GHz
---
Downloads
---
Important notes

Items in stock are shipped the same day from Knoxville, Tennessee, United States.
Bulk pricing is available on request
Shipping restrictions

We cannot ship rigid items over 2.4m (8ft) in length due to freight restrictions. These products are offered for customer pickup only. Please refer to our Shipping Policy for further information.