PVC Light Track for Storefront LED Lights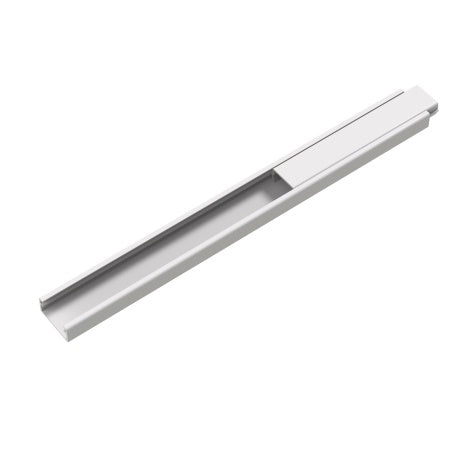 PVC Light Track for Storefront LED Lights
Original price
$29.25
-
Original price
$29.25
cover and PVC light track only ~ LED modules and other accessories are sold separately
Description
These white PVC storefront Light tracks for LED modules cover and protect your LED modules when used as LED storefront perimeter light.
The concept of storefront LED lights with tracks is to attract attention to your shop and highlight it from the surrounding environment.
This storefront LED lighting track system hides wiring and protects the LED modules around your storefront windows while ensuring that the LED modules are mounted in a straight line to provide a professional and aesthetically pleasing finished result. Using our LED module holder will help you to reduce the installation time for your shopfront lighting.
This system can also be used to assemble an efficient LED track to be used where old fluorescent tubes fixtures would previously have been used.
To complete your shopfront illumination project, choose from our range of LED modules desired lighting. You will also need to select a power supply for your LEDs, and a controller if you require dimming or chose to install RGB storefront lighting.
Each 39" raceway/conduit comes with adhesive backing and is CAT#s LS-123xx. These module tracks have a solid PVC construction with a tight-fitting snap-on cover and can be cut and painted to fit the decor. The cover piece can be cut to length according to your desired module spacing and is used to hide, hold and protect the wiring between modules. You can also use it as a conduit for concealing multiple cords, wires, and cables.
Please contact us if you require assistance with components for a complete project for LED lights online.
General specifications
Each storefront PVC LED light track pack includes:

10x 1m (3.28ft) module base housing piece with double-sided mounting tape
6x 1m (3.28ft) module cover piece to hide wires

Interior space: 0.55" x 0.28"
Overall dimensions per piece: 39" x 0.90" x 0.42"
Important notes
Stock items are shipped the same day from Knoxville, Tennessee, United States
Bulk pricing is available on request
Shipping restrictions

We cannot ship rigid items over 2.4m (8ft) in length due to freight restrictions. These products are offered for customer pickup only. Please refer to our Shipping Policy for further information.