Portable Casambi Smart Touch Switch ~ Model Lepuk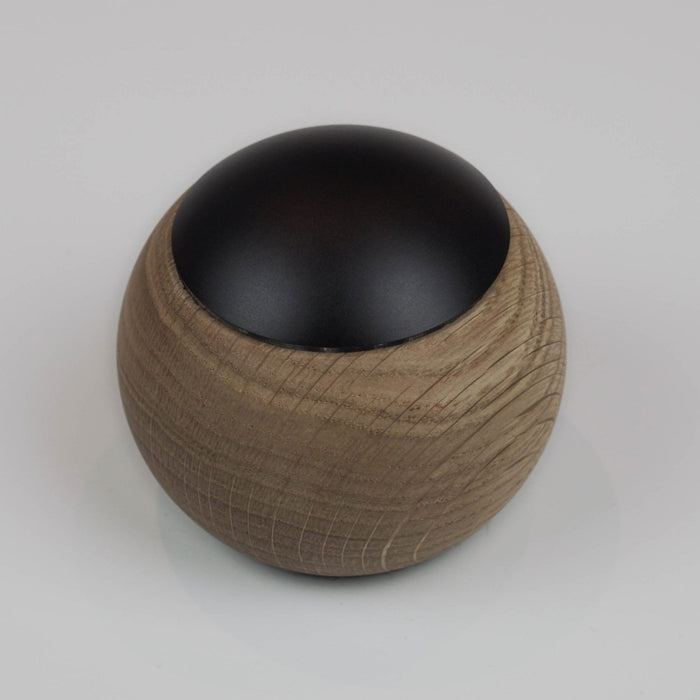 Portable Casambi Smart Touch Switch ~ Model Lepuk
Original price
$232.51
-
Original price
$232.51
Smart switch only ~ power supply, LED controller and other components sold separately
Description

The Lepuk Smart Switch is a revolutionary product that allows you to control your lights and appliances wirelessly with the Casambi system. This innovative wireless touch switch is designed to work seamlessly with the Casambi Bluetooth lighting control system, providing you with an exceptionally convenient yet beautiful remote switch for your smart lighting.

One of the standout features of the Lepuk Smart Switch is its variety of finishes which allow it to seamlessly blend into your decor. This portable touch switch is available with the spherical body in oak, cherry or mahogany, and with the cap in black, silver or gold. All you need to do is choose the combination that of finishes that matches your home's decor. This means that the Lepuk Smart Switch not only provides you with advanced lighting control capabilities but also adds a stylish touch to your home.

The Lepuk Smart Switch is incredibly easy to use and will intuitively integrate into your lifestyle. Each Lepuk Smart Switch can be configured to control up to four Casambi channels, with the currently selected channel being indicated by the glowing ring around the switch cap. Simply tilt the sphere to change channels, and then tap the switch cap to turn your lights on or off. If you want to dim your lights, then just keep touching the switch cap while they dim to the brightness you want.

This decorative switch for your LED lighting is battery powered and uses it's own built-in rechargeable battery which can last up to two months on one charge. You can conveniently recharge your wireless touch switch using a standard USA charger.

The Casambi ecosystem is a wireless mesh network for home automation. Casambi enabled controllers can be used to switch and dim lights as well as control appliances and other electronic devices, and you can set schedules and timers for your lights and appliances so that they turn on and off automatically. The Casambi smartphone app allows you to control your lights and appliances from your phone or tablet. Since the Lepuk Smart Switch is part of the Casambi ecosystem, it offers you a decorative and portable user interface to the whole world of Casambi wireless control devices. Casambi Lighting control system is one of the best smart lighting control systems in the market, with a large selection of compatible devices.
---
General specifications

Please note: Requires Casambi Evolution network
Remote touch-dim: Dimming via 1-finger contact on upper anodized aluminum sphere segment
Channel selection: Configurable from 1 to 4 channels, switch by tilting
Control several luminaires in combination
Low-power technology allows battery life up to 2 months
Battery type: Li-Ion (integrated)
Charging: USB, 5V/100mA
Dimensions (D x H): 73mm x 62mm (2.9" x 2.5")
---
Instructions

This video gives instructions for pairing, unpairing and configuring your Lepuk remote.
---
Downloads
---
Important notes

Stock Items Are Same Day Shipped From Knoxville, Tennessee, United States
Bulk Pricing Available on Request
---
Frequently Asked Questions

Here are some FAQs that can help you understand the Lepuk Smart Switch and the Casambi system better:

Q: What is Casambi?
A: Casambi is a wireless lighting control system that allows you to control your lights from your smartphone or tablet.

Q: What is a Casambi switch?
A: A Casambi switch is a user interface device that is designed to work with Casambi wireless lighting controllers. The Lepuk Smart Switch is wireless Casambi switch.

Q: How does the Lepuk Smart Switch work with the Casambi system?
A: The Lepuk Smart Switch uses Bluetooth to communicate with the Casambi controller (such as CBU-PWM4 and Casambi PWM4), which allows you to control your lights wirelessly.

Q: Can the Lepuk Smart Switch be integrated with other smart home devices?
A: Yes, the Lepuk Smart Switch can be integrated with other smart home devices such as Amazon Alexa and Google Home, and it also works with IFTTT.

Q: Will the Lepuk wireless switch match the rest of my home?
A: Yes, the Lepuk touch controller is available in cherry, oak and mahogany finishes with a choice of three colors for the metal switch cap. You are sure to find a combination that matches your decor.

Q: How long can the battery in Lepuk wireless switch last before I need to recharge it?
A: The Lepuk should last up to two months before needing to be charged, depending on your usage.

 
---
Common search terms

Portable Casambi switch, Portable Wireless lighting control, Portable Smart lighting switch, Battery powered Casambi switch for lighting, Decorative light switch, Decorative light dimmer switch, Stylish light switch
Shipping restrictions

We cannot ship rigid items over 2.4m (8ft) in length due to freight restrictions. These products are offered for customer pickup only. Please refer to our Shipping Policy for further information.