RGB Pixel SK6812 IP68 Waterproof LED Strip (5V) ~ Lantana Series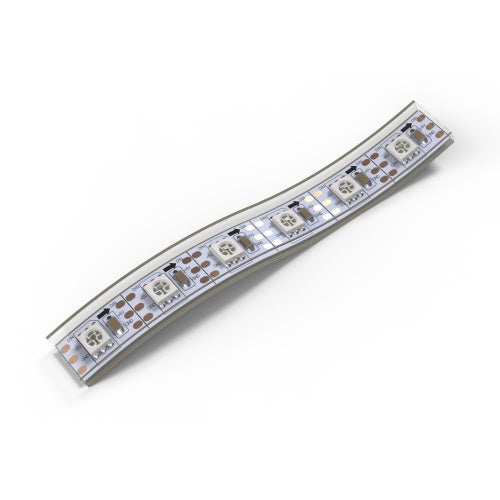 RGB Pixel SK6812 IP68 Waterproof LED Strip (5V) ~ Lantana Series
Original price
$169.49
-
Original price
$169.49
SKU
LED-SPIFLEX60IP68-10.5-3
RGB Pixel SK6812 IP68 Waterproof LED Strip (5V) only ~ we sell the profile, channel, covers, endcaps, and all other accessories separately.

Description

RGB SK6812 IP68 Waterproof LED Strip ~ Lantana Series

The RGB SK6812 IP68 LED Strip is a highly versatile and customizable lighting solution. This strip light also features built-in SK6812 RGB LEDs, which are digitally addressable and capable of displaying individual RGB colors and brightness levels. Additionally, with its Single-BUS programming and simple protocol, this LED strip is incredibly easy to program and control.

Furthermore, the RGB SK6812 Waterproof LED Strip Lantana Series offers impressive extension and flexibility, allowing users to connect multiple strips together and create a massive, long LED display. This makes it an ideal lighting solution for a wide range of applications.

However, it's important to note that the brightness and quantity of LEDs directly impact the power consumption of the strip. Connecting multiple strips may also require an additional power supply to maintain optimal performance.

In conclusion, the RGB SK6812 LED Strip is a highly flexible and versatile lighting option that is perfect for creating stunning visual displays. With its addressable RGB capabilities, users can also easily program the strip to display a wide range of colors and brightness levels.
---
General specifications

Top-quality components
10.5W / meter
3-chip digital addressing LED (based on SK6812)
Thick FPC
60 LEDs per meter,
Dimmable
Only 11.6 mm wide
Supply voltage 5V
Protection against polarity reversal
A thermally conductive adhesive, also easy installation on the surface,
IP68 Waterproof.
Cutting possibility every 16.6 mm (every LED)
Packed on 3m rolls
The maximum length to be powered in series is 3m
Long rolls can also be ordered
SK6812 LED strip designed and manufactured in Europe for Wired4signs USA
Works beautifully with our Wifi BleBox pixelBox Controller
---
Important notes

We sell LED strips, covers, mounting brackets, endcaps, shelf/sign panels, and other accessories separately.
For your convenience Wired4Signs USA can also assemble ready to use plug and play light fitting to your specification.
Please note that we cannot refund or replace LED strip that has been cut.
We ship items in stock the same day from Knoxville, Tennessee, United States. Additionally, our team dedicates themselves to carefully packing and safely delivering all packages to their destination.
Bulk pricing is available on request. Moreover, for larger orders, we offer additional discounts and customized pricing to fit your project needs.
Shipping restrictions

We cannot ship rigid items over 2.4m (8ft) in length due to freight restrictions. These products are offered for customer pickup only. Please refer to our Shipping Policy for further information.