Silver LED Stair Light Channel ~ Model Alu-Stair2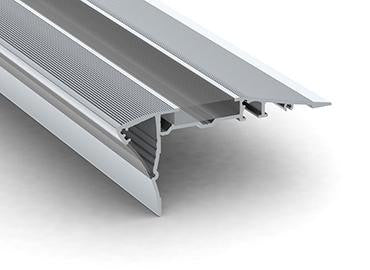 Silver LED Stair Light Channel ~ Model Alu-Stair2
Profile only ~ diffuser, end caps, LED strip and all other accessories are sold separately

Description

Silver LED Stair Light Channel ~ Alu-Stair2

The strong attribute of this Silver LED Stair Light Channel for sale in our online stode is that it directs the light down onto the stair and has a soft light edge illuminated horizontal diffuser.

Indirect light delivers soothing, soft light directly on the stair where it is needed. As a result, the diffuser placed and LED illuminated horizontally determine the end step edge of the stair when viewed from the top. This feature is particularly important in places with reduced or darker lighting, such as cinemas.

In addition, the vertical PC diffuser can be replace by the anti slip rubber (option). Color and LED luminous intensity are up to customer preferences. The horizontal and vertical PC diffuser is coming with frosted, satin finish only. Silver LED Stair Light Channel Alu-Stair2 is coming with design matching aluminum end caps.
---
Downloads
---
Important notes

We sell LED strips, covers, mounting brackets, end caps, shelf/sign panels and other accessories separately from the aluminum profile. Therefore, please select the available components below.

Please note that in outdoor applications, raw or natural profiles or channels will oxidize over time unless they are coated or painted, as they are not anodized.

For your convenience Wired4Signs USA can cut LED profiles according to your requirements. Please leave instructions in the order comment box.

We recommend double-checking the measurements before cutting LED profiles and covers to avoid any unnecessary loss. Please note that if you cut LED profiles and covers, we cannot refund or replace them.

We ship items in stock the same day from Knoxville, Tennessee, United States. Additionally, our team dedicates themselves to carefully packing and safely delivering all packages to their destination.

Bulk pricing is available on request. Moreover, for larger orders, we offer additional discounts and customized pricing to fit your project needs.