Slimline 4-Channel Constant Current LED Dimmer with Casambi ~ Model LINE-4CC-CASAMBI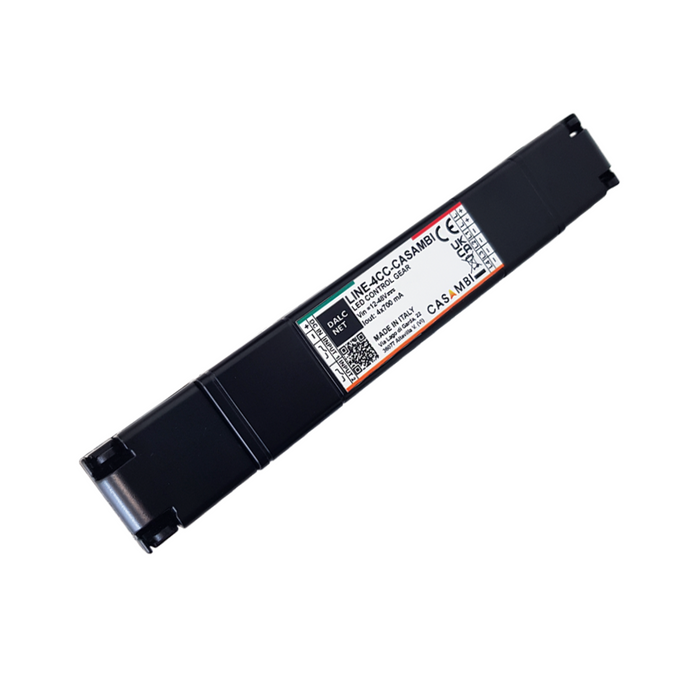 Slimline 4-Channel Constant Current LED Dimmer with Casambi ~ Model LINE-4CC-CASAMBI
Original price
$0.00
-
Original price
$0.00
Controller only ~ power supply, LEDs and all other accessories are sold separately
Description

The LINE-4CC-CASAMBI from Dalcnet is a versatile and powerful 4-channel constant current LED dimmer. It is controllable via Bluetooth using the Casambi app, or locally through two normally open pushbuttons. The dimmer is suitable for driving a variety constant current of LED loads, including spot lights and LED modules in white, monochromatic color, dynamic white, RGB, and RGB+W.

This compact constant current LED dimmer accommodates power supplies from 12 to 48V DC, making is suitable for use with standard 12V, 24V or 48V power supplies. The dimmable constant current output is capable of providing currents from 150mA to 900mA per channel on each of the four output channels.

The slim LINE-4CC-CASAMBI LED dimmer has a number of protections in place to ensure safety and reliability. These include over- and under-voltage protection, reverse polarity protection, and input fuse protection.

In addition to simple control of a single light source, the LINE-4CC-CASAMBI can be also be used to create more intricate lighting control solutions. This is made possible through the creation of multiple scenarios, animations, timers, daylight controls, and more - especially when more than one Casambi controller is incorporated into the system. The Casambi app makes it easy to create and customize these lighting scenes, and to control the dimmer from anywhere in your home.

If you are looking for a powerful and versatile LED dimmer that can be controlled wirelessly, the LINE-4CC-CASAMBI LED Dimmer is a great option. It is easy to use, reliable, and offers a wide range of features.

This controller is compatible with common-anode constant current LED light sources and is not suitable for use with constant voltage LED strip.
---
General specifications

Model: LINE-4CC-CASAMBI
Input range: 12-48V DC
Output Channels: 4-Channel
Bus Command: Casambi
Local Command: 2x Push Button (N.O.)
LED Driver Type: Constant Current (Common-Anode)
PWM Frequency: 3400Hz
Minimum brightness level: down to 1%
Soft start and soft stop
Soft dimming of brightness
Dimensions: 194 x 34 x 29mm (7.63" x 1.33" x 1.14")
---
Downloads
---
Important Notes

Items in stock are shipped the same day from Knoxville, Tennessee, United States
Bulk pricing is available on request
Shipping restrictions

We cannot ship rigid items over 2.4m (8ft) in length due to freight restrictions. These products are offered for customer pickup only. Please refer to our Shipping Policy for further information.