Smart Real-Time Clock Module for Casambi ~ Model TIMER-CASAMBI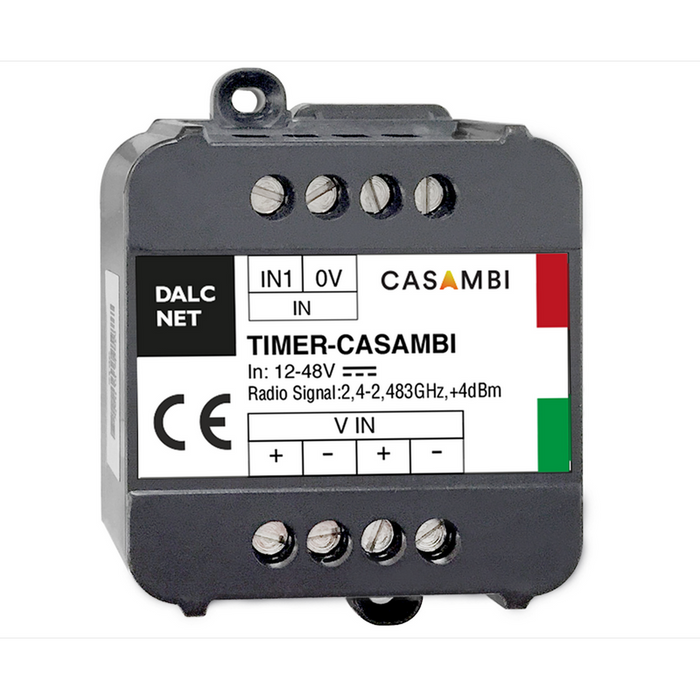 Smart Real-Time Clock Module for Casambi ~ Model TIMER-CASAMBI
Original price
$360.93
-
Original price
$360.93
Controller only ~ powers supply, LEDs and all other accessories are sold separately
Description

The TIMER-CASAMBI from Dalcnet is a smart Bluetooth real-time clock (RTC) module for Casambi networks. You can use this smart backup timer module to maintain the network time on your Casambi Bluetooth mesh network for up to 24 hours through loss of power on the network.

Network time on a Casambi network is used to synchronize lighting scenes and coordinate circadian rhythm lighting control. Typically, this network time is provided form the Casambi smartphone app, but network devices need to obtain a fresh time signal from the app if they lose power. This smart little timer module solves the problem completely by maintaining accurate time for up to 24 hours without electrical power to ensure that your human-centric lighting programs operate reliably without interruption.

To use this smart real-time clock on your Casambi network, simply connect it to a low-voltage power supply and pair it with your Casambi network and it will automatically do the rest. To make it really easy, the TIMER-CASAMBI is compatible with voltages from 12V to 48V DC giving you the flexibility to install it on almost any power source, but don't connect it to a UPS because it needs to know when the power has been off. Furthermore, it's tiny size means it is easy to find a place to mount it out of sight - only remember not to block the Bluetooth radio signal with metal objects.

In the case of a power failure on your Casambi network, the real-time clock module will restore an accurate time signal to all network devices within two minutes of the power being restored. If you suffer a blackouts over 24 hours, you will need to resync the TIMER-CASAMBI time with the Casambi smartphone app.

This smart little time controller for Casambi also includes an optional push button input which can be programmed as a manual control other devices on the Casambi network, such as switching a luminaire on and off or changing a Casambi scene.

Whether you need a Bluetooth light timer for residential or commercial applications, this smart timer module offers convenience, flexibility, and advanced functionality. Experience reliable wireless lightng control with the Dalcnet TIMER-CASAMBI smart Bluetooth timer module.
---
General specifications

Input voltage: 12-48V DC
Working Temperature Range: -10/+40°C
Dimensions: 45 x 58 x 25mm (1.77" x 2.28" x 0.98")
Inputs: 1x N/O push button (optional)
Network type: Casambi Bluetooth mesh
Maximum real-time clock duration: 24 hours
---
Downloads
---
Important Notes

Items in stock are shipped the same day from Knoxville, Tennessee, United States
Bulk pricing is available on request
Shipping restrictions

We cannot ship rigid items over 2.4m (8ft) in length due to freight restrictions. These products are offered for customer pickup only. Please refer to our Shipping Policy for further information.