Professional Touch-Free Hand Sanitizer Dispenser ~ SteriStomp Deluxe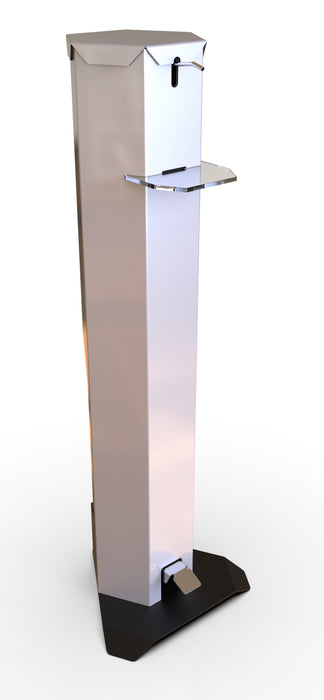 Professional Touch-Free Hand Sanitizer Dispenser ~ SteriStomp Deluxe
Description

Our in-house designed SteriStomp Touch-Free Hand Sanitizer Dispensers are manufactured right here in the Unites States.

These manual foot-controlled, touch-free hand sanitizer dispensers are perfect for your customers and employees and do not require batteries or a power source. Simply step on the foot pedal to dispense liquid or foam 70% alcohol sanitizer.

Unlike purell automatic dispenser units that require batteries - these units are 100% mechanical for consistent operation every day.

We also offer an Economy SteriStomp.
---
General specifications

Get a once off 15% discount on your SteriStomp dispenser if you are prepared to do a review. Check out with discount code SteriStomp15.
No installation is required for this Touch-Free Hand Sanitizer Dispenser.
This foot operated sanitizer dispenser stand is 100% mechanical - no batteries required.
No batteries or power cord required.
Rustproof powder-coated steel.
Spill collector for accidental spills when dispensing.
Stainless steel pedal for long-lasting quality.
Fully designed and manufactured in the USA.
Touch-free hand sanitizer dispenser manufactured and shipped from Knoxville, TN, USA.
This deluxe hands-free sanitizer is an excellent choice for corporate branding.
The sturdy framework makes this unit a fully free-standing hand sanitizer dispenser and easy to position in high traffic areas.
The triangular base improves stability on most surfaces.
SteriStomp Touch-Free Hand Sanitizer Dispenser works with most 1 gallon bottles of liquid hand soap and hand sanitizer
The SteriStomp Touch Free Hand Sanitizer Dispenser is designed to house a one-gallon bottle of hand sanitizer. Add this to your cart below.
Some smaller sanitizer bottles may also work provided the opening size is sufficient for the dispenser tube.
Standard colors:

SAW White SKU: SS1000-SAW
TBL Black SKU: SS1000-TBL
TSZ Silver SKU: SS10000-TSZ
Minimum order quantity of 20 units applies to non-standard colors
---
Downloads

FREE 1 GAL QUALITY SANITIZER WITH EACH DISPENSER!
---
Common search terms

Touch-free hand sanitizer dispenser, Manual hand sanitizer dispenser, Hands free sanitizer, Foot operated sanitizer dispenser stand, Free standing hand sanitizer dispenser, Corporate branded sanitizer dispenser stand