Stair Tread Lights Profile ~ Model Tokyo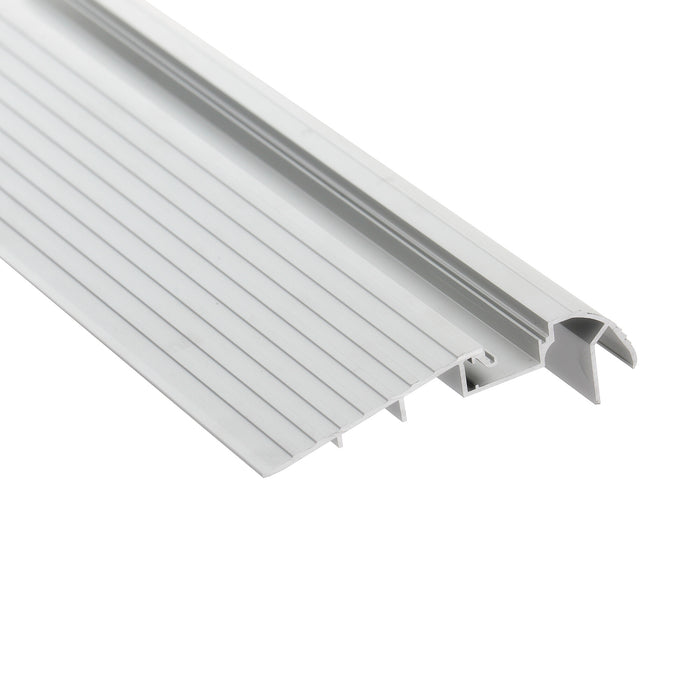 Stair Tread Lights Profile ~ Model Tokyo
Original price
$4.38
-
Original price
$101.89
Profile only - See below for the sale of diffuser, end caps, and other accessories, which are sold separately.
Description

Stair Tread Lights Profile ~ Model Tokyo

The Tokyo stair tread strip light profile is manufactured from high-purity aluminum and available in anodized silver. It is also available in anodized black on request.

ThisStair Tread Lights Profile ~ Model Tokyo clever EasyON diffuser provides an IP65 waterproof rating. Consequently, the profile can use in places with high levels of humidity, and it is highly durable to foot traffic.

Please note: It is not possible to create miter joints with this channel due to the curved profile shape.
---
General specifications

You can light the tread lighting top diffuser in two ways:

By placing the LED strip directly onto the profile beneath the diffuser. This option allows the use of LED strip up to 14mm wide.
By using slide-in carrier plate which is vertically mounted to one side of the diffuser allowing for very smooth lighting effect. In addition, the supplier provides the carrier plate in 2-meter (6.56ft) lengths, enabling the utilization of LED strips up to 8mm wide.

You can install a second LED strip inside the nosing of this stair profile to provide indirect stair riser lighting.
You can obtain this profile and its diffuser in 2-meter (6.56ft) lengths and cut them to your desired length.
We offer a 10-year guarantee on the Stair Tread Lights Profile and a 4-year guarantee on the diffusers.
At an additional charge, we can powder coat this profile to black or any other color.
---
Downloads
---
Important notes

We will cut The Tokyo Stair Tread Lights Profile to the exact length you require for your convenience.
Note that this profile does not permit miter (angled) joints
We recommend double-checking the measurements before cutting LED profiles and covers to avoid any unnecessary loss. Please note that if you cut LED profiles and covers, we cannot refund or replace them.Please note that we cannot refund or replace LED profiles and covers that have been cut
We can custom cut and populate our Stair Tread Lights Profile to provide our clients with a plug and play system.
LED Strip Lights For Stairs Items in stock ship the same day from Knoxville, Tennessee, United States. Additionally, our team dedicates themselves to carefully packing and safely delivering all packages to their destination.
LED Strip Lights For Stairs Bulk Pricing Available on Request.

Moreover, for larger orders, we offer additional discounts and customized pricing to fit your project needs.
---
Common LED stair nosing lighting applications

Deck illuminated stair nosing
Patio led lighted stair nosing
Restaurant led stair nosing lighting
Stair riser lights
Theater led stair nosing
Riser lights for deck stairs
Shipping restrictions

We cannot ship rigid items over 2.4m (8ft) in length due to freight restrictions. These products are offered for customer pickup only. Please refer to our Shipping Policy for further information.