Track Lighting Casambi Remote Control RGBW Spotlight ~ Jade ColorFlow Series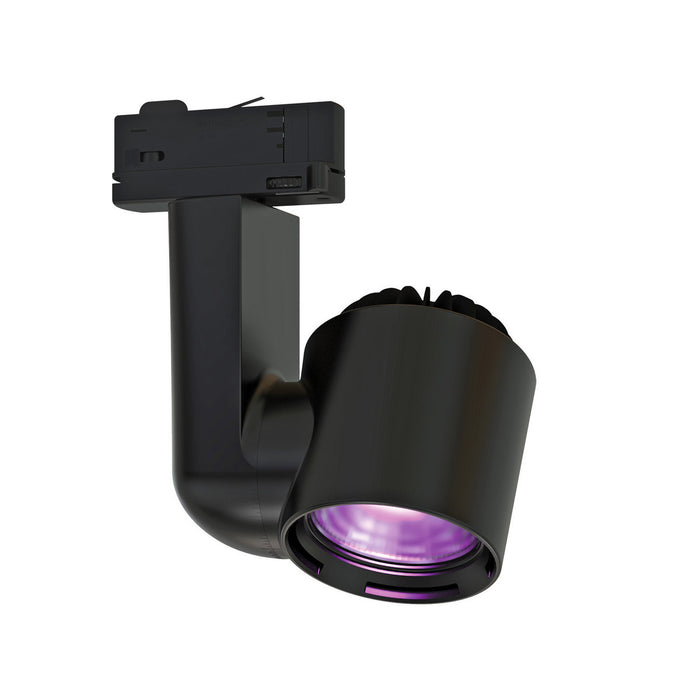 Track Lighting Casambi Remote Control RGBW Spotlight ~ Jade ColorFlow Series
Original price
$670.09
-
Original price
$670.09
SKU
LED-J-C-T9B-3C-C470-1
Spot light only ~ all other accessories are sold separately
Description

These track lights with remote control offer an unprecedented homogeneous color mix and a light output that is higher than any other fixture with the same dimensions. Track lighting remote control makes for easily adjustable sculpture lighting fixtures and the perfect way to add a lighting fixture that simultaneously acts as art.

The color changing spot light Jade ColorFlow fixtures are equipped with a unique RGBW LED module with no less than 12 white LEDs and 18 color LEDs. This means that you can use the fixture for both white and color light applications and the Casambi Bluetooth system allows for intuitive remote control from a mobile device or Casambi enabled switch.

Due to special placement of the LED chips on the PCB in combination with a patent pending 'color mixing dome', these track spots offer an unprecedented homogeneous color mix. Even at a short distance, a beautiful shadow-free color mix can be achieved as a result of intensive optical engineering. The Jade RGBW track lights offer a total effective light output of no less than 1450 lumen, with 700 lumen of white light and 750 lumen of colored light. No other fixture of these dimensions match this output.

The Jade ColorFlow track spots are adjustable in the horizontal (340°) and vertical (350°) planes with graduated markings to assist in setting up your entire installation perfectly.

The Jade ColorFlow equipped with an accessory holder as standard for accessories such as lens barn doors, snoots or honey comb louvers. Accessories can be easily assembled within a few seconds and in both white and black finish. To prevent disturbing reflections, the white accessories are black coated on the inside for minimum reflection and glare.

These track lights are also available with other mounting systems such as surface or through-hole, with other lighting types such as tunable white, and with other control systems such as DMX-512 control via the track. Visit the Jade Series product configurator on the manufacture's website to select specific options, and then send us the model code. We are always ready to assist you with your special project requirements.
---
General specifications

Mounting style: Global 3-phase track
Housing colors: White, Gray or Black
LED chip: CLS Dynamic Color CoB, RGB + White
Beam angles: 23 Degree (Spot), 45 Degree (Medium), 69 Degree (Flood)
Power consumption: 30W
Light output: 1450 lm
IP rating: IP20 non-waterproof
Voltage: 100-240V AC
---
Downloads
---
Important notes

Items in stock are shipped the same day from Knoxville, Tennessee, United States
Bulk pricing is available on request
---
Common search terms

Track lighting remote control, Sculpture lighting fixtures, RGBW, Bluetooth, Light art sculpture, Track lighting for studio, Track lighting with remote
Shipping restrictions

We cannot ship rigid items over 2.4m (8ft) in length due to freight restrictions. These products are offered for customer pickup only. Please refer to our Shipping Policy for further information.