4.5" Large Recessed LED Channel ~ Model RPLW116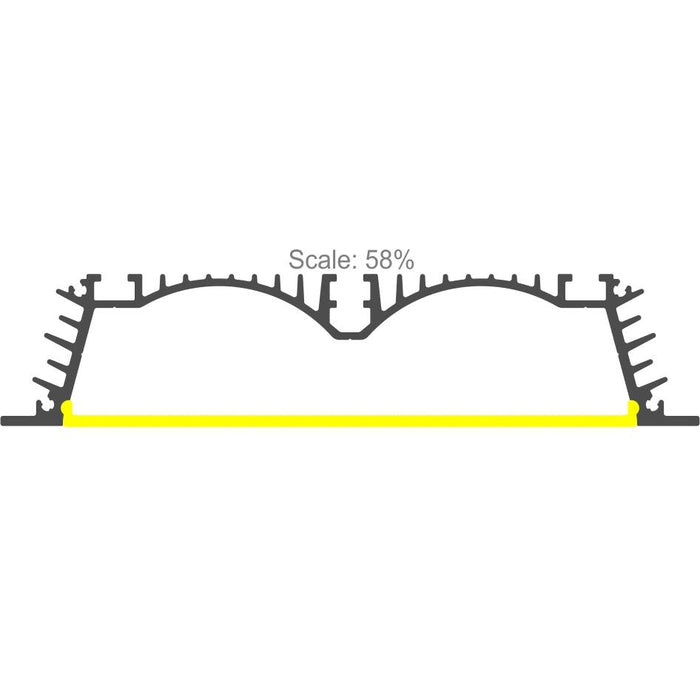 4.5" Large Recessed LED Channel ~ Model RPLW116
Sale
Sale
Original price
$8.54
-
Original price
$167.18
Description

4.5" Large Recessed LED Channel ~ Model RPLW116 

RPLW116 is a new recessed architectural design 4.5" Large Recessed LED Channel with an extra-wide diffuser of 116mm and an extra-wide (160° degree) light output angle. It is a high capacity linear heat sink for led stripes, with an aluminum body weight of 1,4kg/m. It also have a cooling capability higher than 55W/m @ Ta=25°C.

We optimized the design of the large Recessed LED Channel's internal shape to reduce the bouncing of light rays. Which increased the overall light efficiency of the lamp. We optimized the light distribution to evenly distribute light on the whole surface of the diffuser. This resulted in higher light efficiency and brighter (flux output) illumination at a smaller power load of the LEDs compared to an ordinary U shape profile.

The side located LED stripes in this large Recessed LED Channel provide us with an advantage of an extra-wide light angle, which is equal to 160° degrees. Despite having a low profile of only 30mm high body, we have achieved this advantage.

It is an ideal solution for low construction gypsum ceilings with limited space. Additionally, it is suitable for installation in medium to high hang ceilings where the 116mm diffuser is neither too big nor too small.

Please see the complete brochure of the RPLW116 Recessed LED Channel product here. 
---
Important Notes:

We sell LED strips, covers, mounting brackets, end caps, shelf/sign panels and other accessories separately from the aluminum profile. Therefore, please select the available components below.

Shipping on 3-meter lengths may differ from checkout calculation. Please contact us for more information

We ship items in stock the same day from Knoxville, Tennessee, United States. Additionally, our team dedicates themselves to carefully packing and safely delivering all packages to their destination.
Bulk pricing is available on request. Moreover, for larger orders, we offer additional discounts and customized pricing to fit your project needs.
The profile was designed for our White Iris Series of High CRI LED Strip.
Shipping restrictions

We cannot ship rigid items over 2.4m (8ft) in length due to freight restrictions. These products are offered for customer pickup only. Please refer to our Shipping Policy for further information.