Square LED Diffuser Channel ~ Model Flo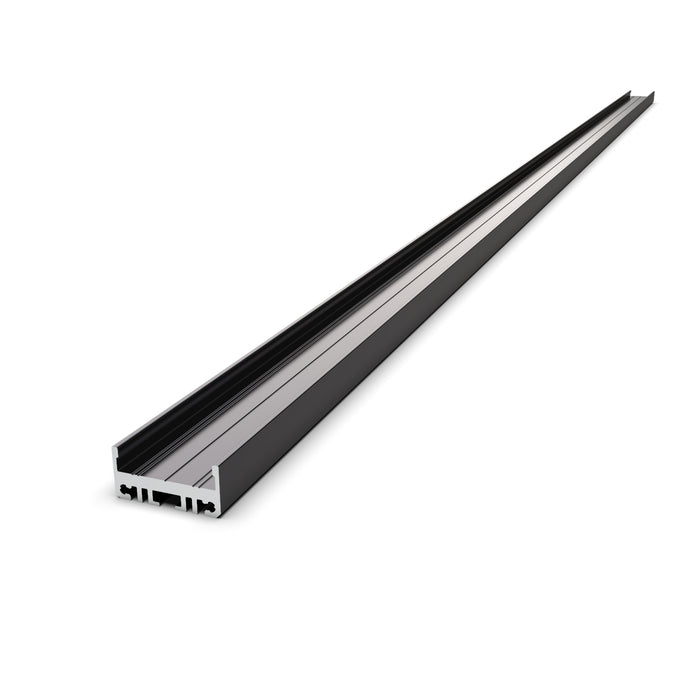 Square LED Diffuser Channel ~ Model Flo
Original price
$0.00
-
Original price
$76.84
Profile only ~ diffusers and all other accessories are sold separately
Description

The FLO channel is designed to meet the rising demand for squared diffusers with flat top, we are introducing 2 new designs to our offer (1 taller and 1 shorter). The taller design is 32.2mm (1.27 inches) high above the aluminum channel, and the shorter design is 11.60mm (0.46 inches) above the led channel. This provides adaptivity in projects as they can be used on the same foundation and are made using the AL-INS-FLO as the base. The 3 side light emission, combined with opal LEDs and DOT FREE technology, guarantees an outstanding visual effect. Additionally, the diffusers are UV resistant, making them suitable for both indoor and outdoor projects.

The FLO channel is a great radiator and works perfectly as a heat sink, it can accommodate LED strips up to 30W/m. The base is available in both silver and black anodized color, adding to the sleek and elegant design. High-quality endcaps and linear connectors are also available, complementing the design and making it great for indoor projects. The square diffuser, also known as a milky LED strip diffuser cover, enables you to produce a homogeneous light with most led strips and eliminates hot spots providing warm and inviting ambiance, making it one of the best-led strip diffusers on the market.

The FLO channel can also be used to make pendant light fixtures and with the extra wide led channel, it suitable for double led strip if needed, providing more options for your lighting project. It is perfect for outdoor led strip light housing due to the fact that the lenses are UV stable, making it a durable and long-lasting solution for your lighting needs.

With the combination of high-quality materials, outstanding visual effect and wide range of applications, it is considered as one of the best-led diffuser channel options available in the market, also referred as led diffuser channel and led channels and diffusers for tape lighting. The FLO channel provides a protective and decorative housing for LED strip lights, while also diffusing the light to create a warm and inviting ambiance.

Our FLO channel works well with all of our LED strip options such as the Dahlia, White Iris, Sunrise, and Hibiscus series LED strips found in the LED strip section of the Wired4signs website. These series are also available for purchase on the website and are suitable for a wide range of lighting projects. By clicking the links, Dahlia, White Iris, Sunrise, and Hibiscus series, you can access more information on these LED strips and find the perfect fit for your next project. With the combination of our FLO channel and the LED strip options, you can create a professional and high-quality lighting design.
---
General Specifications

Material: Alluminum
Overall Dimensions: 27mm x 21.6mm (1.063" x 0.85")
Maximum LED strip width:
---
Downloads

Flo cut sheet (coming soon)
---
Important notes

Free customer support
Premium materials manufactured in Europe or USA.
Factory based in Knoxville, Tennessee with over 20 years of experience in the lighting market and we can ship to any part of the USA.
Covers, end caps, and other accessories are sold separately from the aluminum profile. Select the available components below.
We are happy to build a light fitting to your specifications using this product. Please leave detailed instructions in the order comment box.
We can also assemble a plug-and-play light fitting with this profile according to your specifications. Please leave detailed instructions in the order comment box.
Please note that we cannot refund or replace LED profiles and covers that have been cut.
Items in stock are shipped from Knoxville, Tennessee, United States the same day.
We guarantee competitive bulk pricing. Please contact us for more information.
---
Common search terms

Milky LED strip diffuser cover, Best LED strip diffuser, Outdoor LED strip light housing, Aluminum profile LED strip light, Strip profile manufacturer, Extra wide LED channel, Best LED diffuser channel, LED diffuser channel, LED channels and diffusers for tape lighting, Diffuser strips for LED lights
Shipping restrictions

We cannot ship rigid items over 2.4m (8ft) in length due to freight restrictions. These products are offered for customer pickup only. Please refer to our Shipping Policy for further information.