Wago 221 Series Inline Wire Splicing Lever-Nut Connector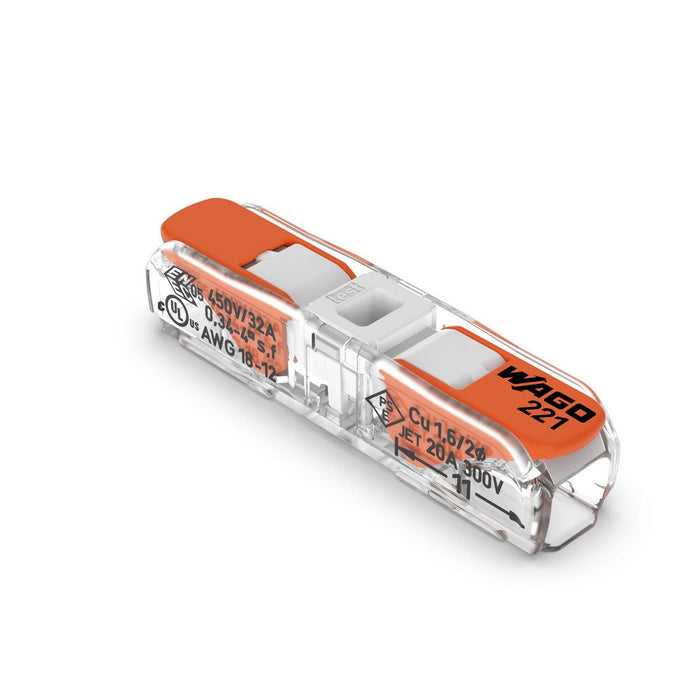 Wago 221 Series Inline Wire Splicing Lever-Nut Connector
Original price
$6.97
-
Original price
$324.00
connector only ~ all other components sold separately

Description

The Wago 221 Series inline wire splicing connectors are easy to use: Simply lift the lever up, insert the conductor and push the lever back down to easily terminate solid, stranded, and fine stranded conductors from 20 to 12 AWG.

The small size and low profile of these compact lever-nut connectors allows them to be used in small spaces such as inside electrical wiring boxes, module tracks, or LED strip channels. The optional multi-way connector carriers also allow you to neatly and securely mount the splicing connectors with the option of strain relief as well if required.

These genuine Wago brand lever nut connectors are UL approved and rated for mains voltage up to 600V AC (UL Group C), making them suitable for almost any electrical supply installation. The clever lever connection system makes it easy to reliably join different wire types, for example you can use these inline connectors to join finely stranded equipment wiring to the solid core wiring which is used for mains supply. Use these connectors to quickly and reliably extend wiring runs in your lighting installation or connect LED drivers to the mains supply.

If you need to connect multiple conductors for distribution purposes, we suggest using the Wago 221 Compact multi-pole lever-nuts instead.

How to use a Wago 221 inline connector

Please refer to the Wago 221 series inline connector cut sheet below for complete instructions and technical details.

The inline connectors are designed to connector two wires or cable cores together.
Lever nut wire connectors are suitable for use with solid core, stranded, and fine stranded electrical wire.
Prepare the wire by removing 11mm (0.43") of insulation from the tip.
Lift the lever on the first side, fully insert the wire and close the lever again.
Gently pull the wire to ensure that it is securely held.
Repeat the process for for the wire on the opposite side.
---
General Specifications

Model number: Wago 221-2401
Comparable to: Wago 221-2411 (European market)
Connect any combination of solid, stranded, and flexible copper wires faster and more reliably than other connection methods
Easily visually inspect for proper strip length and complete wire insertion through its transparent housing
Easily accessible test point
Applications for Wago inline lever-nuts:

Simple extension of electrical lines
Lighting connections in suspended ceilings
Multi-pole lighting fixture connections
LED power supply connections
Temporary test connections

Compatible wire size:

Solid core: 0.2 ... 4mm² (20 ... 12 AWG)
Stranded: 0.2 ... 2.5mm² (18 ... 12 AWG)
Fine stranded: 0.34 ... 4mm² (18 ... 12 AWG)

Nominal voltage: 450V (EN 60664) / 600V (UL Group C)
Rated current: 32A (EN 60664) / 20A (UL Group C)
Maximum ambient temperature: 85°C (185°F)
Approvals: UL 486C (E69654), CCA EN 60998 (NTR NL-7827) and KEMA/KEUR EN 60998 (71-113253 Rev.1)
---
Downloads
---
Important notes

Items in stock are shipped the same day from Knoxville, Tennessee, United States
Bulk pricing is available on request
---
Frequently asked questions

Q: How do I confirm that my wiring is securely connected in the Wago 221 inline connectors?
A: The clear housing of these connectors makes it easy to visually check that your wiring has been correctly installed.

Q: Can't I just use twist on wiring connectors like I always have?
A: Sure you can, if you enjoy life the hard way, but Wago 221-2401 inline lever-nuts are a quick and reliable way to connect wiring and make it easy to disconnect and reconnect too!

Q: Is that the only advantage of using a lever nut connector? This is permanent installation and I don't think I will need to do maintenance.
A: The best advantage of inline lever-nuts connectors over twist-on screw nuts is how easy they make reliable connections between different wire types. This is an important consideration when connecting finely stranded wiring of an LED driver to solid core mains wiring.


Q: How many wires can I connect with a Wago 221 inline connector?
A: The inline lever-nut connectors designed to connect two wires together only. But the optional carrier allows you to mount the inline connectors neatly side by side for connecting multi-core cables together.

Q: Are these Wago 221 series inline connectors code approved?
A: Yes, the Wago 221 inline lever-nuts are UL 486C listed, as well as CCA EN 60998 and KEMA/KEUR EN 60998 certified.

Common search terms

Wago inline connectors, Wago inline lever-nut, Inline cable connector, Easy inline wire splicing connector, Quick inline wire connector block, Wago inline wire connector, Inline lever-nut connector, UL inline wire connector, UL certified inline wire connector, UL approved inline wire connector, Single-pole lever nut connector, Single-pole wire splice connector, Single-pole inline connector
Shipping restrictions

We cannot ship rigid items over 2.4m (8ft) in length due to freight restrictions. These products are offered for customer pickup only. Please refer to our Shipping Policy for further information.