1.50" Clear Plastic Tubing for LED Lights ~ Model Smokies38 Clear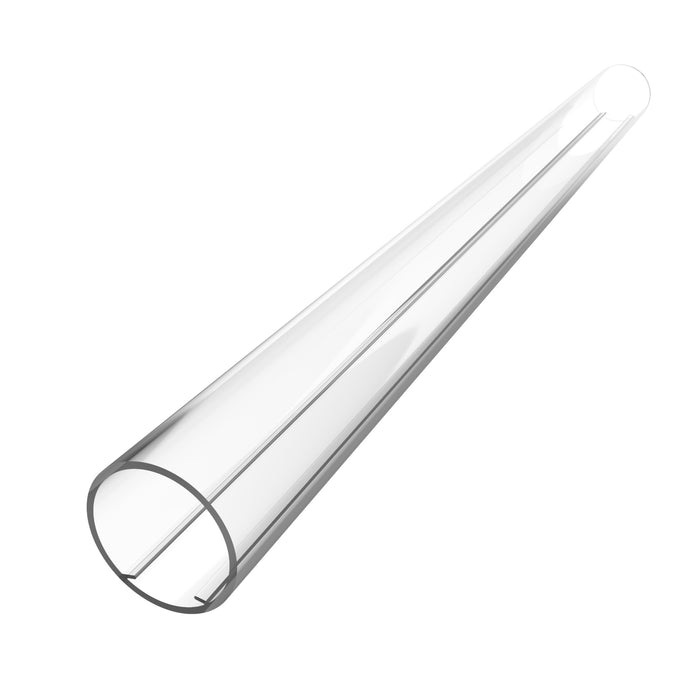 1.50" Clear Plastic Tubing for LED Lights ~ Model Smokies38 Clear
Original price
$5.11
-
Original price
$97.46
1.50" Clear Plastic Tubing for LED Lights only  ~ end caps, LED strip and all other accessories are sold separately
Please contact us for a custom complete LED fixture using this tube
Description

1.50" Clear Plastic Tubing for LED Lights  ~ Model Smokies38 Clear

Our 1.50" Clear Plastic Tubing for LED Lights are made of polycarbonate and can be used as a suspended tube pendant light. 

In addition, the clear Smokie38 LED diffuser tube is a 1.50'' diameter round polycarbonate tube with a slot for an aluminum LED mounting plate. The LED mounting plate slides into the hollow plastic tube and acts as the physical carrier and heat sink for the LED strip.

Furthermore, the clear tubing does not diffuse the light from individual LED chips like a frosted or opal tube does. This allows for a sparkling pixel effect when used with traditional LED strip, otherwise we recommend using our White Lily Series COB tape for continuous dot-free illumination.

Our LED tube light diffusers are also a suitable replacement for frosted acrylic (PMMA) lighting cylinders.

These round polycarbonate LED diffuser tubes are self-supporting and enable a variety of creative installations, including horizontally suspended tube lights (from both ends) or vertical pendant lights (from one end), also as floor-standing column or pillar lights, or simply as wall-mounted light diffuser tube.

These LED Diffuser Tubes are also available in Black or White options, these acrylic tube lights give off a beautiful diffused light that will make any space look stunning.

Moreover, if you need additional accessories or mounting options for the clear tubing for led lights, be sure to scroll down the page to find all the compatible materials, which are sold separately.

Note: We don't recommend using polycarbonate for outdoor applications because it may discolor when exposed to high UV levels.
---
General specifications

Maximum LED strip width: 15mm
Maximum LED power 15w/m
Outside diameter: 38mm (1.50")
Color: Clear
Materials:

Diffuser tube: Polycarbonate
Heat dissipation plate: Aluminum
---
Downloads
---
Use and applications

These light bars also add a touch of fun to any application. They're perfect for use in a wide variety of settings.

Colored LED light tube for concert lighting

Display lighting

Bathroom accent lighting

Bed or headboard lighting

Trade shows booth with clear acrylic tubes
---
Important notes

Power supplies, LED strips, mounting accessories, end caps, and other accessories are

sold separately

. Select the compatible components below.

Clear plastic tubes can easily be cut by hand or by machine.

How to cut acrylic tubes

We can also cut the LED tubes according to your requirements

. Please leave instructions in the order comment box.

We can also

assemble a plug-and-play light kit

with this profile according to your specifications.

We recommend double-checking the measurements before cutting LED profiles and covers to avoid any unnecessary loss. Please note that if you cut LED profiles and covers, we cannot refund or replace them.
We ship items in stock the same day from Knoxville, Tennessee, United States. Additionally, our team dedicates themselves to carefully packing and safely delivering all packages to their destination.
Special bulk pricing is available on request. Moreover, for larger orders, we offer additional discounts and customized pricing to fit your project needs.
---
Common search terms

Clear plastic tube, Plastic tubing for LED lights, Clear plastic tubes for LED lights, LED light tube strip, Clear tube guards for fluorescent bulbs, LED lights in clear PVC pipe, LED lights in pvc pipe, LED plastic tube lights, Plastic tube for led strip
Shipping restrictions

We cannot ship rigid items over 2.4m (8ft) in length due to freight restrictions. These products are offered for customer pickup only. Please refer to our Shipping Policy for further information.