0-10VDC to Casambi Wireless Scene Selector ~ Model Scene10cas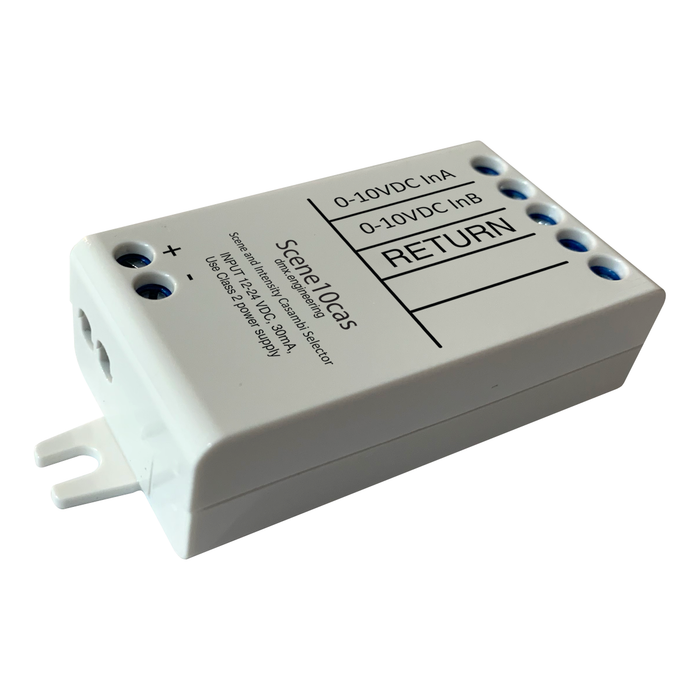 0-10VDC to Casambi Wireless Scene Selector ~ Model Scene10cas
Original price
$75.95
-
Original price
$75.95
0-10VDC to Casambi Wireless Scene Selector only ~ power supply and other accessories are sold separately
Description

The Casambi Wireless Scene Selector ~ Model Scene10cas is an interface that enables wireless selection of Casambi Scenes using analog 0-10V DC control signals. Certainly, you can conveniently control the Casambi Bluetooth mesh network using an analog 0-10V DC master. In addition, the Scene10cas is easy to set up. 

Connect the Casambi Wireless Scene Selector ~ Model Scene10cas to a 12-24V DC power supply and one or two 0-10V DC analog control signals. After that, use the free Casambi smartphone app to configure your Casambi scene and intensity mapping.

Additionally, to provide scene selection based on the signal level, the Casambi Scene10cas divides the first analog signal into voltage segments. Moreover, the second analog input provides an optional 0-100% intensity control for the selected Casambi Scene.

Casambi is a smart home network that offers various devices for many purposes. To sum up, The 10cas 0-10V DC device allows you to control Casambi with analog 0-10V DC  signals. Lastly, whether you're looking to set the mood in your living room or optimize energy consumption in your workspace, Casambi has something to offer.
---
General specifications

Ecosystem: Casambi (Bluetooth mesh)
Power supply: 12-24V DC Class 2
Outputs:
Inputs:

2x 0-10V DC (two-wire signal, common ground)

Applications: 1x Casambi Scene selection and Intensity control
Dimensions: 73 x 30 x 18mm (2.2 x 1.2 x 0.7")
Note: To ensure effective Bluetooth signal, the Casambi Wireless Scene Selector ~ Model Scene10cas should not be installed in a metal junction box
Approvals: ETL Listed, UL 916 Listed, FCC Approved
Designed and manufactured in the USA 
---
Instructions
---
Downloads
---
Important notes

Items in stock are shipped the same day from Knoxville, Tennessee, United States.
Bulk pricing is available on request
Shipping restrictions

We cannot ship rigid items over 2.4m (8ft) in length due to freight restrictions. These products are offered for customer pickup only. Please refer to our Shipping Policy for further information.