20A 4-Channel LED Amplifier/Repeater ~ ampBox by BleBox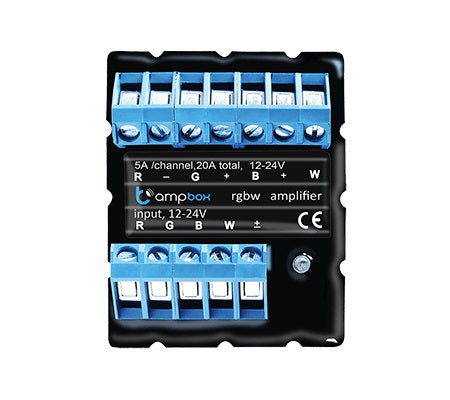 20A 4-Channel LED Amplifier/Repeater ~ ampBox by BleBox
Original price
$32.59
-
Original price
$32.59
20A 4-Channel LED Amplifier/Repeater only ~ all other accessories are sold separately
Description

4-Channel LED ampBox Amplifier

ampBox is a powerful and professional, four-channel LED amplifier(4x5amp), designed to with both traditional and smart low-voltage LED systems.

With four channels and a 4x5amp capacity, it enables users to attach large lighting loads to other controllers such as LightBox and wLightBox. In addition, this tiny amplifier serves two purposes: to boost the signal from a master controller and to add more power into the installation to prevent voltage drop.

4-Channel LED ampBox Amplifier is commonly used as a LED strip, RGB, or RGBW amplifier and is also compatible with Philips Hue light strip AMP, enabling longer lengths of Hue Strip. Moreover, it works seamlessly with virtually every type of low voltage LED strip or LED modules.
---
Downloads
---
General specifications

Digital signal enhancement
Optical isolation for safety.
Ready for RGBW lighting.
Ampbox allows users to attach significant LED lighting loads while still providing a safe lighting system, both indoors and outdoors.
---
Important notes

Because of its compact size, you can install ampBox in various locations around your house to manage your lighting system.
Do you know that the amplifier heated as a result of the current flow? And the warmer they are (resistance increases), the worse they work? Ampbox also dissipates heat in the entire surface of the housing, thanks to this heats much slower in comparison with other LED amplifiers.
Have you seen a Chinese amplifier with the same characteristics? small details can cause big problems. Thanks to its unique design and the parallel combination of several load power elements. Which for some amplifiers are also the only " maximum instantaneous", the ampBox is completely normal.
Made In Poland
We ship items in stock for LED amp the same day from Knoxville, Tennessee, United States. Additionally, our team dedicates themselves to carefully packing and safely delivering all packages to their destination.
Shipping restrictions

We cannot ship rigid items over 2.4m (8ft) in length due to freight restrictions. These products are offered for customer pickup only. Please refer to our Shipping Policy for further information.