Large 45 Degree Corner LED Channel ~ ALU45-Wide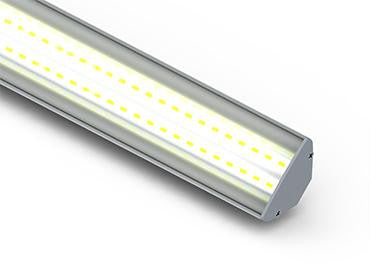 Large 45 Degree Corner LED Channel ~ ALU45-Wide
Original price
$2.16
-
Original price
$41.80
Diffusers and other accessories are sold separately and are not included in this profile
Contact us for custom plug-and-play light fitting assembly
Description

Large 45 Degree Corner LED Channel ~ ALU45-Wide

Upgrade your lighting setup with the superior performance and durability of the ALU45-Wide 45-degree corner mount LED strip channel. The optimized interior design ensures even lighting of the lens across the entire width. The unique shape of this Large 45 Degree Corner LED Channel ~ ALU45-Wide diffuser allows a wide range of illumination, making it perfect for illuminating large surfaces and spaces, even in high or deep recesses. For the best lighting effect, we recommend using two rows of LED strips with a width of 8mm each.
Additionally, thanks to its large mass (0.38kg/m) and built-in heat sink, this LED corner channel can run at a total power of 25W/m without overheating. Furthermore, the optional milky opal frosted cover limits the glare and diffuses the light evenly.
As a result, LED corner lighting for commercial spaces is a practical and stylish choice for illuminating your business or home and creating a welcoming atmosphere for any visitor. Ultimately, experience professional-grade lighting with the Large 45 Degree Corner LED Channel - you won't be disappointed!
---
General specifications

Material: Aluminum

Overall dimensions: 41.7mm x 18.9mm (1.64" x 0.74")

Maximum LED strip width: Two rows of 8mm

Maximum LED strip power: 25W/m

2 runs of LED strip can fit into Alu45-wide.
---
Downloads
---
Important notes

We sell LED strips, covers, mounting brackets, end caps, shelf/sign panels and other accessories separately from the aluminum profile. Therefore, please select the available components below.
Please note that in outdoor applications, raw or natural profiles or channels will oxidize over time unless they are coated or painted, as they are not anodized.
For your convenience Wired4Signs USA can cut LED profiles according to your requirements. Please leave instructions in the order comment box.
We can also assemble a plug-and-play light fitting with this profile according to your specifications. Therefore, please leave detailed instructions in the order comment box.
We recommend double-checking the measurements before cutting LED profiles and covers to avoid any unnecessary loss. Please note that if you cut LED profiles and covers, we cannot refund or replace them.
We ship items in stock the same day from Knoxville, Tennessee, United States. Additionally, our team dedicates themselves to carefully packing and safely delivering all packages to their destination.
Bulk pricing is available on request. Moreover, for larger orders, we offer additional discounts and customized pricing to fit your project needs.

Shipping full 3-meter lengths cost a minimum of $115.00 with UPS freight and an additional surcharge of $125 for residential addresses."
---
Common search terms

Corner LED channel, LED corner channel, Corner LED strip channel, Wide LED channel, Extra wide LED channel, LED aluminum channel corner, Corner aluminum LED strip channel, LED strip 90 degree corner, LED lighting for corners
Shipping restrictions

We cannot ship rigid items over 2.4m (8ft) in length due to freight restrictions. These products are offered for customer pickup only. Please refer to our Shipping Policy for further information.