Custom Modular LED Light Fixture Systems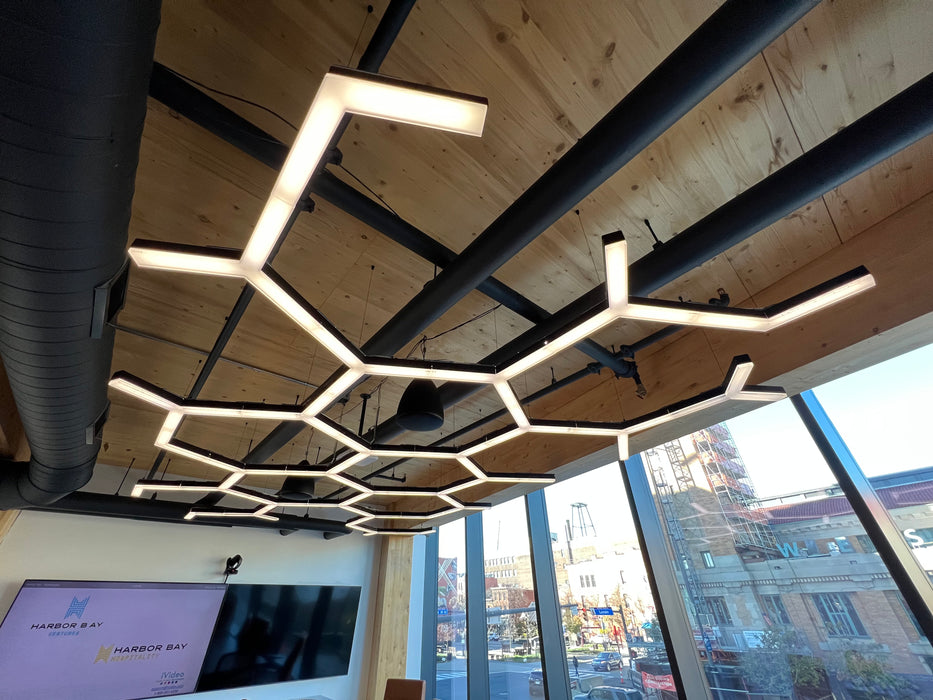 Custom Modular LED Light Fixture Systems
The best custom modular light fixtures on the market

We at Wired4Signs USA, LLC, a manufacturer of custom modular light fixtures and acrylic LED light products, work closely with interior designers, architects, event planning firms, and exhibition designers to create stunning frosted acrylic light tubes or polycarbonate tube light assemblies. They're perfect for custom LED ceiling lights or hexagon car shop lights.

We combine our experience with LED lighting, LED lighting controls, acrylic adhesives, and CNC manufacturing to build anything from a scene of RGB color-changing acrylic pendant lights to Hexagon garage lighting.

We use the finest quality components — manufactured in the USA or Europe — to build anything from small 1ft LED lamps to 10ft outdoor acrylic tube light fixtures.

Our LED Lights can but used to build battery-operated tube lights and incorporate DMX and Bluetooth control for stage lighting.

The advantage of the white-black diffusers is that it is a great option to buy when your wall art scene background is black so that the tubes are not visible when the lighting is off but give great light contrast when the LED lights are on.

Many designers buy our modular light fixtures to hang or light tubes for bathroom vanities.
---
The main points to consider when developing a modular lighting system project

Purpose of the light fixture - If you want a lighting system to be only for decorative purposes, then low output LED strip could be convenient for your modular lights. However, if you want your modular LED system to be the main source of light in any room (e.g hex lighting garage fixture, dining room lights) high-output lights are more appropriate.
Budget - When planning how you want your modular LED system to look, keep in mind you will need other components for a complete installation. Power supplies, controllers, connectors, diffusers, etc. By taking into account all the materials needed for a project, you'll be able to plan ahead with ease.
The color of the light (e.g. warm, cool, or natural white, etc.) - The type of LED strip you use will impact the total cost of the installation and the control system you will use. If you need help verifying what items you'll need for your projects, our product experts are happy to help.
The placement of the light fixtures (e.g. grid LED ceiling lights, living room hexagonal lighting, etc.) - Depending on where you install the LED strips the more complex the project can be. Taking into consideration factors such as where to install the power supplies, connectors and wires will help you determine how demanding a project can be.
---
Modular lighting ideas

Hexagon shop lights
Ceiling light fixtures
Art gallery luminaires
Octagon garage lights
RGB honeycomb lights for gaming rooms
Hexagon ceiling light fixtures for gym spaces
Photography studio lighting grid system

 
---
Our modular lights are commonly referred to as

Hexagrid lights
Custom linear LED systems
Modular light fixtures
Pipe grid lighting
---
Frequently asked questions

Q: Can LED modular lights be cut to length?

A: Yes, we can cut LED strips, diffusers, and light tubes to length. Contact us for more information.

Q: Can I install modular light fixtures at an art gallery?

A: Unlike fluorescent or incandescent lights, LEDs lights don't produce UV radiation. When selecting lights for artwork, this is a crucial factor for reducing long-term damage to valuable artwork.


Q: How often do I need to replace my modular LED fixture?

A: LED strips have a long lifespan, and require low maintenance. They can last anywhere between 20,000 hours and 50,000 hours, this will depend on how often you have the lights on, The temperature of your LED light's surroundings, etc.