Horticultural Grow Light IP68 Waterproof LED Strip (24V) ~ Cherry Tomato Series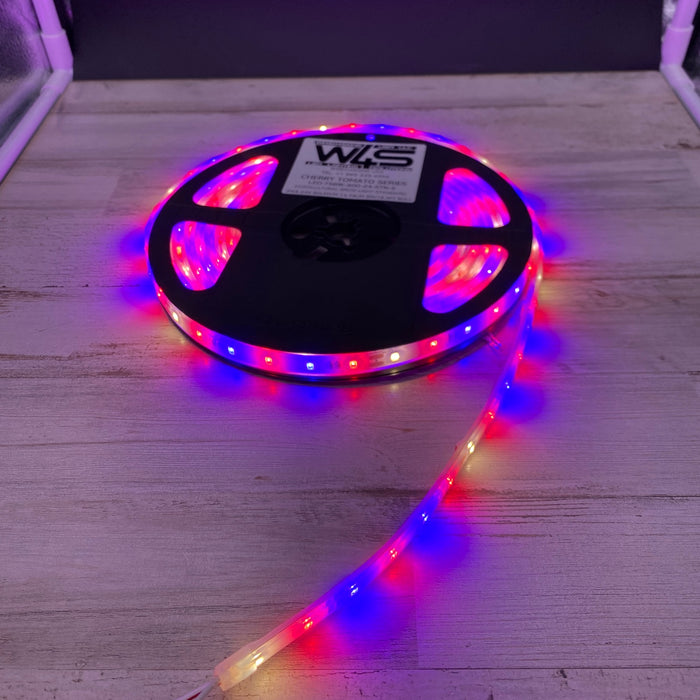 Horticultural Grow Light IP68 Waterproof LED Strip (24V) ~ Cherry Tomato Series
Original price
$16.02
-
Original price
$295.68
SKU
LED-TSGW-300-24-STN-5
LED strip only ~ Profile, channel, covers, end caps and all other accessories are sold separately
Description

Horticultural Grow Light IP68 Waterproof LED Strip (24V) ~ Cherry Tomato Series

Our Cherry Tomato series grow light LED strips are purpose designed for horticultural applications. This professional waterproof horticultural LED strip is available in a choice of three spectra to suit different agricultural requirements such as crop types and the growth stages: Standard (universal full spectrum), Vegetative (early growth) and Flowering.

This high quality waterproof horticultural LED strip light for growing plants is ideal for domestic small-scale projects in wet or damp areas (we sell strip per foot too) as well as large-scale industrial indoor and outdoor horticulture and hydroponics applications and provides the appropriate photon flux density for proper photosynthesis.

Additionally, the compact and low-profile design of our IP68 Horticultural Grow Light Waterproof LED Strip makes it easy to install between rows of plants or on the underside of shelves and racks, making it well-suited for high-density farming applications.

Furthermore, the Cherry Tomato Series waterproof horticultural LED strip light is the result of extensive testing and calculations by engineers in Europe to create the ideal lighting for your crops. You can trust this grow light LED strip to help you fix bad crop lighting conditions and grow plants successfully all year round while ensuring low energy consumption.
---
General specifications

3 separate High CRI 5630 LEDs for effective spectrum output
Each batch is laboratory tested
Thick FPC
Thermally conductive adhesive for easy installation
Environmental protection rating: IP68 waterproof
Dimmable: Yes
Supply voltage: 24V DC
LED density: 60 LEDs/m (18 LEDs/ft)
Power: 13.7W/m (4.2W/ft)
Efficiency (flux density): 1.85 µmol/W
Color spectrum composition:

Royal Blue: 450nm
Yellow & Green: Warm White 3000K
Hyper Red: 660nm

 Spectrum options:


Standard: 47% Royal Blue / 10% Yellow & Green / 43% Hyper Red
Vegetative: 56% Royal Blue / 11% Yellow & Green / 33% Hyper Red
Flowering: 29% Royal Blue / 19% Yellow & Green / 52% Hyper Red

LED strip width: 11.6mm
Cutting pitch: Every 100mm (4")
Standard roll size: 5m rolls (16.4ft)
Can also be custom made in long rolls on request
Power up to 8-10m of LED strip from one side without any visible loss of light at the end (double that amount when powering from both sides)
Designed and manufactured in Europe
---
Downloads
---
Important notes

We sell LED strips, covers, mounting brackets, endcaps, shelf/sign panels, and other accessories separately.
For your convenience Wired4Signs USA can also assemble ready to use plug and play light fitting to your specification.
Please note that we cannot refund or replace LED strip that has been cut.
We ship items in stock the same day from Knoxville, Tennessee, United States. Additionally, our team dedicates themselves to carefully packing and safely delivering all packages to their destination.
Bulk pricing is available on request. Moreover, for larger orders, we offer additional discounts and customized pricing to fit your project needs. Overall, please contact us to learn more about our bulk pricing options.
---
What makes us different from others?

High CRI LED Strip not made in China
Factory with over 20 years of experience in the lighting market
Carefully selected components from leading brands
Designed by engineers with many years of experience
All production batches go through a 5-step quality control
Our High CRI LED Strip rolls are available in 16.4ft and bulk led strip 328ft rolls(on demand) 
5 year warranty
---
The natural color of light

A high color rendering index is friendly for eyes and gives true-color rendering of illuminated objects. The color rendering index (CRI) is also much higher comparing to cheap products from Asia. Color rendering index CRI (Ra) in simple words measures the ability of a light source to accurately reproduce colors.

In addition, it's important to note that a value of CRI = 100 is the maximum value and determines the ideal color rendering. In practice, CRI> 80 also provides accurate color rendition for us to feel comfortable with as we see the colors of objects around us look natural.

However, the cheaper LED strips have usually CRI under 70, causing the color of light to irritate us and making it difficult to recognize the colors of well-known objects. As a result, customers often refer to this as the "light like in the morgue". This phenomenon is often identified with the white cold color, but in reality, it's the low CRI rating of cheap LED products that causes this issue.
---
Frequently asked questions

Q: Why is this LED grow light strip available with a choice of light spectrum?
A: Different stages of plant growth require different components of the light spectrum for effective growth. However, you can choose an LED spectrum which suits your application and type of crop.

Q: I have a variety of crops in my greenhouse at home - which spectrum of LED strip should I choose?
A: You can use the standard spectrum LED grow light strip for universal applications. This full spectrum LED grow light is also designed for general applications.

Q: Why should I replace my HID (discharge lamp) lighting with horticultural LED strip lighting?
A: LED grow lights are significantly more energy efficient than other forms of lighting, allowing you to reduce your electricity costs and save money.

Q: I use water misting on our plants. Do you have a waterproof LED grow light strip?
A: Yes, our Cherry Tomato series horticultural LED strip is also available in a IP68 fully waterproof sealed version.


Q: Do your LED grow lights come in a housing?
A: No, this is the LED strip only, but you can select an appropriate LED channel from our range. We can also resin fill our LED profiles for a completely waterproof solution.


Q: How do I power my grow light LED strip?
A: You will need a constant voltage LED power supply, also known as an LED "driver". We also offer a range of top quality LED power supplies including waterproof models for wet and outdoor applications.


 
Shipping restrictions

We cannot ship rigid items over 2.4m (8ft) in length due to freight restrictions. These products are offered for customer pickup only. Please refer to our Shipping Policy for further information.