Power Tool Battery Adapter for LED Strip Lights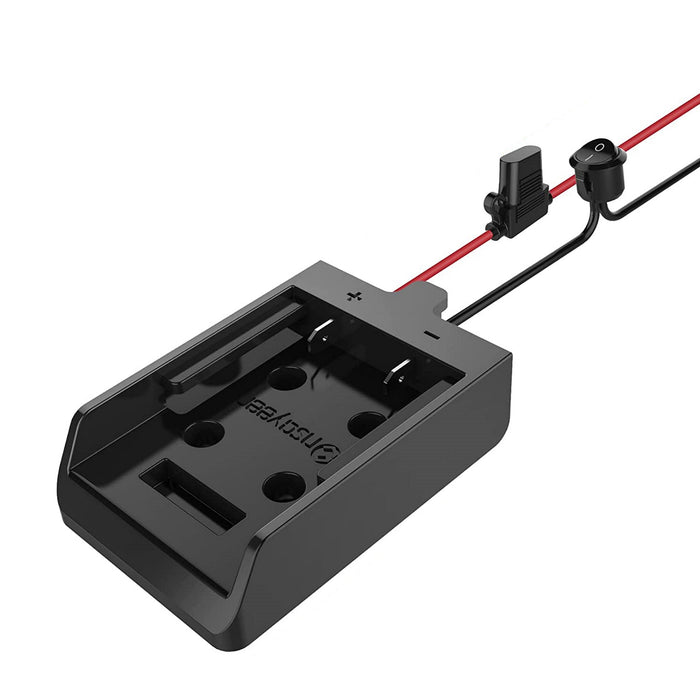 Power Tool Battery Adapter for LED Strip Lights
Original price
$31.49
-
Original price
$31.49
SKU
LED-BATT-ADAPTER-DW20
Battery adapter only ~ Battery pack, LED strip lights and other accessories sold separately
Description

Introducing the Wired4Signs USA power tool battery pack adapter, a revolutionary solution for powering 24V LED strip lights using your own standard power tool battery packs. This versatile adapter is perfect for those who want to add a pop of color to their space without the need for a nearby power outlet, and have the flexibility to control their lights from anywhere.

Our battery pack adapter is designed to work seamlessly with any of our 24V LED strip lights, including RGB and RGBW as well as red LED strip and other colors. This battery power lighting provides a wide range of lighting options for any portable lighting project. The adapter is easy to use and allows you to switch out batteries quickly and easily, so you can keep your lights on for as long as you need using commonly available batteries and chargers.

We recommend combining our battery pack adapter with the Casambi LED dimmer which allows you to control your lights from your phone or a with wireless Casambi remote or switch which we offer and support. This gives you the freedom to change the color, brightness, and even schedule your lights to turn on and off, all from the convenience of your smartphone.

To power your LED strip lights with batteries, all you have to do is connect the battery pack adapter to your LED strip lights and insert the battery. You can then turn on your lights using the switch, or better still using a Casambi LED dimmer which allows you to control the brightness and color of your lights.

We strongly recommend using our Wago 221 lever-nuts to quickly and easily connect your LED strip lights to your battery pack adapter. These wire connectors remove all the hassle of joining your wires to supply your LED lights from the battery, and the multi-pole connectors allow the option of splicing more than one LED strip run to the same supply.

Using an LED strip light battery pack and adapter with the Casambi LED dimmer is the perfect solution for those who want to add a touch of color to their space without the need for a power outlet. It can also be used as emergency lighting for your local store. It's portable and easy to use, and you can find replacement batteries at most major retailers. With the Casambi LED dimmer, you can control your lights from anywhere and schedule them to turn on and off according to your preference. Using our battery power system for your LED lights creates an easy to use portable lighting solution, whether you need it for temporary lighting for an event, backup LED lighting, or some other creative solution.

These LED lights battery for lighting using power tool batteries are also an ideal solution if you are a contractor or site worker: Why not power your own custom work lights with the same batteries that you use for the rest of your tools.

 
---
General Specifications

Adapter only - Battery pack is NOT included
Contents: Battery adapter, switch & fuse
Compatible batteries:

Dewalt 20V battery (genuine or generic)

Maximum current: 20A
Connection type: Flying lead (12.6")
Wire size: 12 AWG
Mounting: Free-standing or screw mounted
---
Important notes

Items in stock are shipped the same day from Knoxville, Tennessee, United States.
Bulk pricing is available on request
---
Common search terms

Red LED strip lights battery powered, Battery pack for LED strip lights, How to power LED strip lights with batteries, LED strip light battery pack, LED light strip remote battery, Power tool battery LED lights
Shipping restrictions

We cannot ship rigid items over 2.4m (8ft) in length due to freight restrictions. These products are offered for customer pickup only. Please refer to our Shipping Policy for further information.