RGBW 4-Channel LED Dimmer with Casambi ~ Model DLX1224-4CV-CASAMBI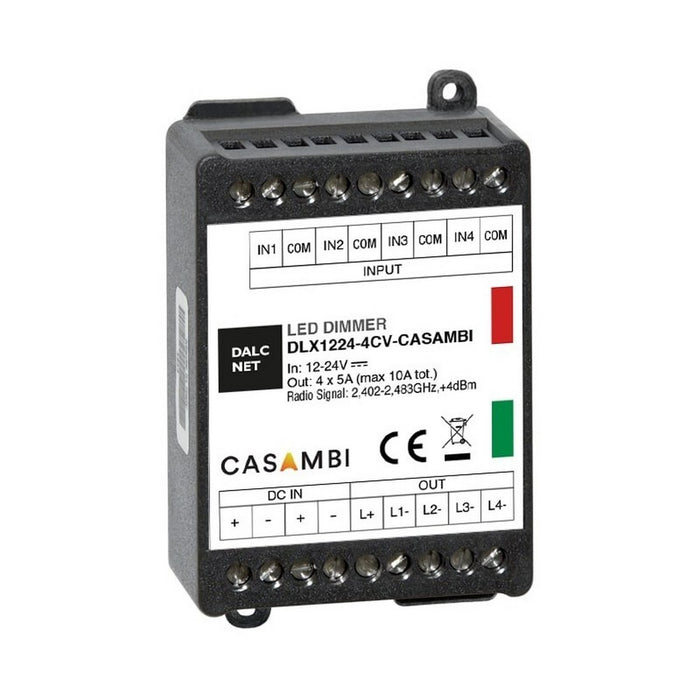 RGBW 4-Channel LED Dimmer with Casambi ~ Model DLX1224-4CV-CASAMBI
Original price
$0.00
-
Original price
$0.00
SKU
LED-DLX1224-4CV-CASAMBI
Controller only ~ power supply, LEDs and all other accessories are sold separately
Description

The DLX1224-4CV-CASAMBI dimmer for LED's is a four-channel LED lighting controller with a Casambi wireless networking interface, enabling effortless management of various LED types, including White, Tunable White, RGB, and RGBW.

With the DLX1224, you have the power to adjust luminous brightness, craft captivating color scenes, and indulge in exciting color games through an array of commands available on the intuitive Casambi smartphone app.

The four channels on this wireless controller can be used to manage almost any lighting system, from simple dimming to tunable-white or dim-to-warm to full-color RGB+W LED systems.

Enhancing flexibility, this 4-channel LED dimmer also comes equipped with four push button inputs, allowing you to add local control for scene selection or dimming.

The Casambi app offers a modern intuitive experience for controlling LED lights, allowing you to manage the entire lighting system effortlessly, whether it be specific lights through a photo-based approach or through the creation and storage of customized scenarios with varying brightness levels, color temperatures, or engaging RGB scenes.
---
General specifications

Model: DLX1224-4CV-CASAMBI
Input Range: 12-24V DC
Max Output Power: 4x 5A (Max. total 10A)
Channels Output: 4-Channel
Wireless Command: Casambi
Local Command: 4x Push Buttons, Normally Open (N.O.)
LED driver type: Constant voltage
Working Temperature Range: -10/+40°C
Dimensions: 106 x 59 x 36 mm (4.17" x 2.32" x 1.41")
---
Downloads
---
Important Notes

Items in stock are shipped the same day from Knoxville, Tennessee, United States
Bulk pricing is available on request
Shipping restrictions

We cannot ship rigid items over 2.4m (8ft) in length due to freight restrictions. These products are offered for customer pickup only. Please refer to our Shipping Policy for further information.