Single Output Switching Power Supply (24V) ~ Model Meanwell APV Series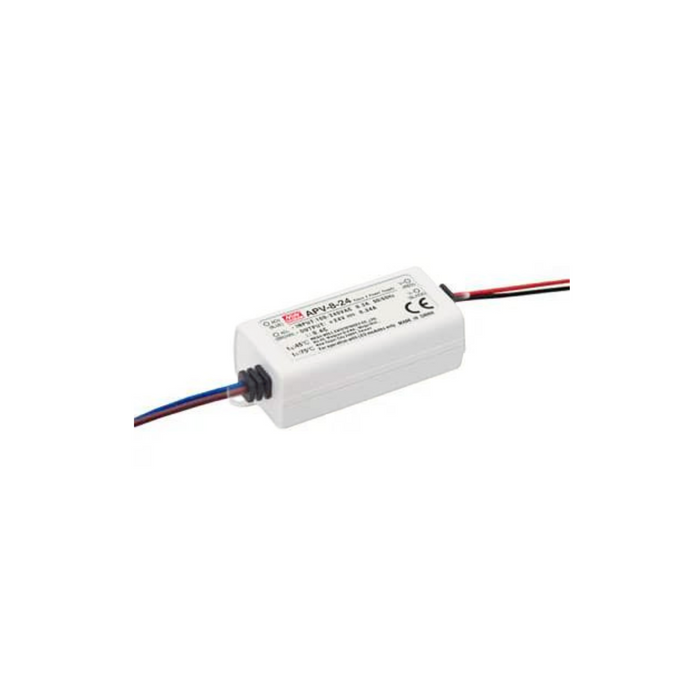 Single Output Switching Power Supply (24V) ~ Model Meanwell APV Series
Original price
$0.00
-
Original price
$0.00
Power supply only ~ all other components are sold separately
Description

Mean Well APV series single output switching power supply is designed for constant voltage mode, ensuring a stable and reliable power source for your applications. It is available in 8W, 16W and 25W which are equipped with a range of exceptional features.

These power supplies adapt seamlessly to various AC inputs, ensuring unparalleled flexibility and convenience. They are fortified with comprehensive protections against short circuits, overloads, and over voltages, emphasizing safety and durability.

Encased in fully insulated plastic, these units add an extra layer of safety. Even in demanding conditions, they maintain peak performance thanks to effective free air convection. Designed with limited space in mind, these power supplies boast a small, compact form factor. With IP30 ( 16W & 25W) and IP46 (8W) designs, they offer versatile protection against dust and moisture for diverse environments.

Compliant with Class 2 power unit standards, these supplies prioritize safety while delivering dependable performance. Each unit undergoes a 100% full load burn-in test, ensuring it meets the highest quality and performance standards. Balancing affordability with top-notch reliability, these power supplies offer unparalleled value. Tailored precisely for the demands of LED lighting and moving sign systems, they deliver precise and necessary power.
---
General specifications

Output Voltage: 24V
Current Range Output: 1.05A (25W) | 0.67A (16W) | 0.34A (8W)
Efficiency Type: 83% (16W, 25W) | 81% (8W)
Max Output Power: 25.2W (25W) | 6.08W (16W) | 8.16W (8W)
Operating Temperature: -30 °C ~ 70 °C
Voltage Rating: 370V
Dimension: 84x57x29.5mm (3.31x2.24x1.16") 25W | 77 x 40 x 29mm (3.03" x 1.57" x 1.14") | ( 60x30x23.5mm (2.36x1.18x0.93") 8W
2 years warranty
---
Downloads
---
Important notes

Items in stock are shipped the same day from Knoxville, Tennessee, United States.
Bulk pricing is available on request
Shipping restrictions

We cannot ship rigid items over 2.4m (8ft) in length due to freight restrictions. These products are offered for customer pickup only. Please refer to our Shipping Policy for further information.