Slimline Casambi to DALI Signal Converter ~ Model SLIM-CBU-DALI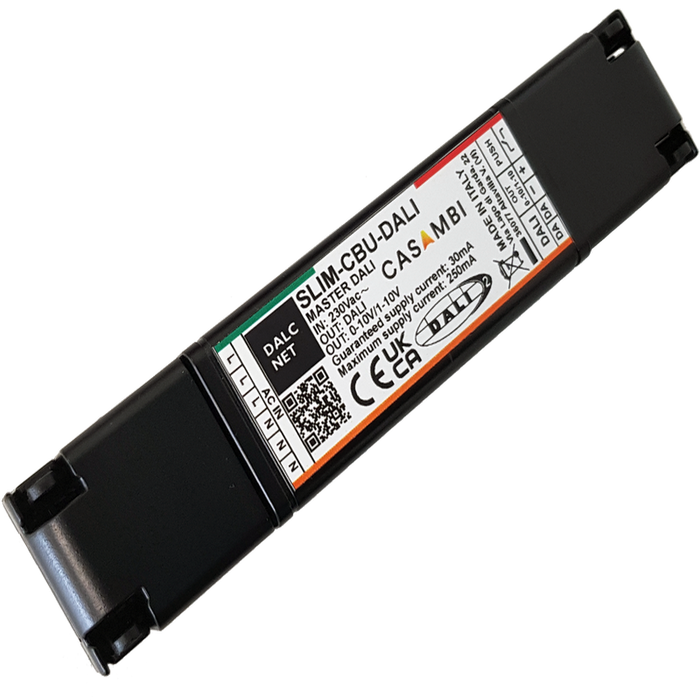 Slimline Casambi to DALI Signal Converter ~ Model SLIM-CBU-DALI
Original price
$0.00
-
Original price
$0.00
Controller only ~ power supply, LEDs and all other accessories are sold separately
Description

The SLIM-CBU-DALI wireless signal converter offers seamless integration between your Casambi lighting control network and DALI or 0-10V lighting devices. Powered directly from your mains voltage lighting supply for simple installation, you can use this small converter to add Casambi wireless control to any DALI or 0-10V power supply or fixture.

If you want to add wireless remote control to a DALI lighting fixture or to a 0-10V controlled power supply, the SLIM-CBU-DALI is the solution. With its advanced technology, this wireless signal converter empowers you to effortlessly translate commands from the Casambi smartphone app into precise DALI or 0/1-10V commands for a hassle free solution.

Efficiency is at the core of SLIM-CBU-DALI's design. The converter receives commands from the Casambi app, enabling you to control your lighting fixtures with unprecedented ease using the power of the Casambi network for scene control and programmable lighting tasks. Whether it's a DT6 or DT8 command for a DALI device, or an analog command within the 0 to 10V range, this versatile device executes your control preferences with simplicity.

This compact wireless adapter for DALI fixtures offers a comprehensive selection of different fixture types and modes, ensuring compatibility with just about any DALI or 0-10V device. For added flexibility, this compact wireless DALI converter also offers one push button input for local dimming control or Casambi scene selection.
---
General specifications

Model: SLIM-CBU-DALI
Supply Voltage: 230V AC nominal (100-240V AC 50/60Hz)
Local Input: 1x Push Button (N.O.)

Input Bus: Casambi
Output Bus:

DALI (DT6 & DT8)
0-10V
1-10V

Functions:

Signal converter from Casambi to DALI
Signal converter from Casambi to 0-10V / 1-10V

Dimensions: 136 x 29 x 21mm (5.35" x 1.14" x 0.82")
Warranty: 5 years
---
Downloads
---
Important Notes

Items in stock are shipped the same day from Knoxville, Tennessee, United States
Bulk pricing is available on request
---
Common search terms

Wireless DALI controller, Wireless 0-10V controller, Wireless Casambi to DALI signal converter, Wireless Casambi to 0-10V signal converter, Control DALI with Casambi App, Control 0-10V with Casambi App
Shipping restrictions

We cannot ship rigid items over 2.4m (8ft) in length due to freight restrictions. These products are offered for customer pickup only. Please refer to our Shipping Policy for further information.