Surface Mount LED Strip Channel ~ Model Alu-Epoxy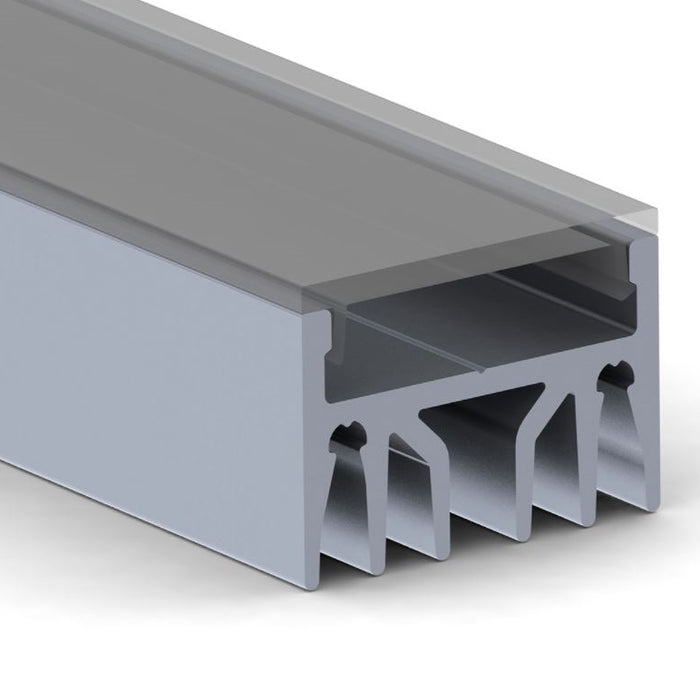 Surface Mount LED Strip Channel ~ Model Alu-Epoxy
Profile only ~ we sell the diffuser, end caps, and all other accessories separately
Description

Surface Mount LED Strip Channel ~ Model Alu-Epoxy

The Alu-Epoxy profile is a high-performance aluminum LED channel for surface mount and embedded applications. The high power dissipation of this profile means that it can be used with double rows of LED strip for a very high wattage per meter.

This high-power surface mount LED strip channel Alu-Epoxy is for sale in our online store and  suitable for recessed installation, suspended lighting (special cables available), or for installation on a surface and is ideal for two main applications:

Firstly, it suits well to create high-output indoor LED lighting fixtures, and its heavy construction makes it ideal for industrial and commercial applications that require reliable and bright LED lighting. You can also fit a clear or frosted UV-stabilized PMMA diffuser to close the channel for indoor applications (refer to the accessories list below).

Secondly, this profile is designed to be optionally resin-filled to create high-power waterproof LED fixtures for outdoor applications. By using the dedicated resin-filling end caps and filling this profile with optically clear resin, you can create an fully waterproof linear LED heatsink. Wire4Signs also offers computerized custom resin filling for LED profiles. Contact us to discuss your requirements.

Exceptionally effective LED cooling ensures a long lifespan for the LED strip. The load test shows that the thermal conductivity of this profile with a double row of LED strip is 36W/m @ Ca=25° , Tc56°C in a long duration test run.
---
General specifications

Material: Aluminum
Overall dimensions (with diffuser): 24.2mm x 17.6 (0.95" x 0.69")
Overall dimensions (without diffuser): 24.2mm x 16mm (0.95" x 0.63")
Maximum LED strip width: 21mm
Maximum power dissipation: 36W/m @ 25°C
Colors: Silver anodized or Black anodized
---
Downloads
---
Important notes

We sell LED strips, covers, mounting brackets, end caps, shelf/sign panels and other accessories separately from the aluminum profile. Therefore, please select the available components below.

Please note that in outdoor applications, raw or natural profiles or channels will oxidize over time unless they are coated or painted, as they are not anodized.

For your convenience Wired4Signs USA can cut LED profiles according to your requirements. Please leave instructions in the order comment box.

We recommend double-checking the measurements before cutting LED profiles and covers to avoid any unnecessary loss. Please note that if you cut LED profiles and covers, we cannot refund or replace them.

We ship items in stock the same day from Knoxville, Tennessee, United States. Additionally, our team dedicates themselves to carefully packing and safely delivering all packages to their destination.

Bulk pricing is available on request. Moreover, for larger orders, we offer additional discounts and customized pricing to fit your project needs.