Outdoor RGBW 4-Ch Wi-Fi LED Controller ~ wLightBox PRO by BleBox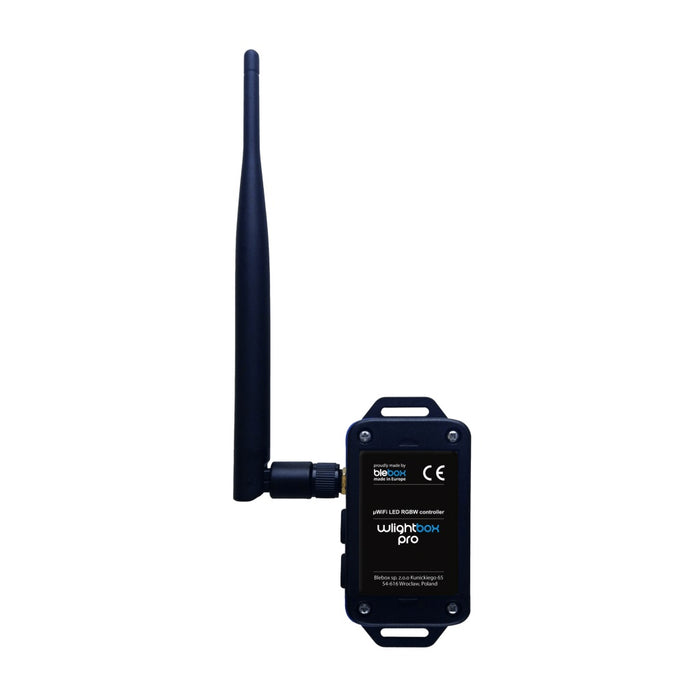 Outdoor RGBW 4-Ch Wi-Fi LED Controller ~ wLightBox PRO by BleBox
Original price
$93.09
-
Original price
$93.09
Outdoor RGBW 4-Ch Wi-Fi LED Controller only ~ LEDs and all other accessories are sold separately
Description

Outdoor RGBW 4-Ch Wi-Fi LED Controller ~ wLightBox PRO by BleBox

wLightBox PRO controls via Wi-Fi RGBW LED lighting controller from anywhere, anytime. Install the LED light controller in the place that best suits your needs, both indoors, outdoors, or wherever you want. Then use 4 ways to control the device. 

In addition, wLightBox PRO Outdoor RGBW 4-Ch Wi-Fi LED Controller offers a user-friendly mobile app that allows you to customize the color and brightness of your RGBW LED lights with just a few taps on your smartphone. With the ability to control your lights from anywhere, you can create the perfect ambiance for any occasion, whether it's a romantic dinner or a party with friends.

Under the rain or in full sun? Don't worry, now you can also mount the controller wherever you want, don't protect it from weather conditions. Place the controller, for example, on your fence post, and play with colors not only in your home but also around it. 
---
General specifications

Supply voltage:  12-24V

Energy consumption: < 1W

Maximum power: 12A (3A/channel)

Maximum voltage: 24V

Maximum load: 288W

dimensions:  50 x 92 x 28 mm (without antenna), 85 x 230 x 28 mm (with the antenna located vertically), antenna length 197 mm

Protection: IP54

Transmission frequency: 2.4 GHz

Outputs type:  open-drain, PWM, low side control

controls 12-24V RGBW LED lighting

place the controller in a location even away from the router

connect a wall push-button to your lighting

You should also install the controller in a place exposed to weather conditions

High Quality - Made in Europe

The controller is equipped with a replaceable external antenna, which allows you to change it in order to increase its range, adapting it to the individual needs.

 

DIFFERENT INTEGRATIONS

The controller can also be integrated with other control systems. You can connect it to the Amazon Alexa or Google Home voice assistant as well as the Home Assistant smart home system.
---
Downloads
---
Important notes

We also sell LED strips, covers, mounting brackets, end caps, shelf/sign panels and other accessories separately from the aluminum profile. Therefore, please select the available components below.
We can also assemble a plug and play light fitting with this controller according to your specifications. Therefore, please leave instructions in the order comment box.
We ship items in stock the same day from Knoxville, Tennessee, United States. Additionally, our team dedicates themselves to carefully packing and safely delivering all packages to their destination.
Bulk pricing is available on request. Moreover, for larger orders, we offer additional discounts and customized pricing to fit your project needs.
---
Common Terms

LED light remote, LED power supply, Wireless led strip lights, LED remote, Remote control light
Shipping restrictions

We cannot ship rigid items over 2.4m (8ft) in length due to freight restrictions. These products are offered for customer pickup only. Please refer to our Shipping Policy for further information.