RGB CCT LED Strip ~ Strelitzia Series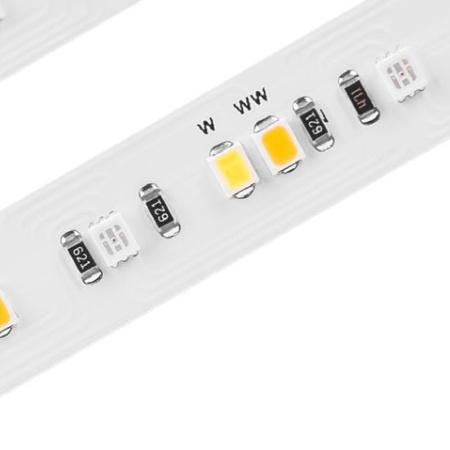 RGB CCT LED Strip ~ Strelitzia Series
Original price
$23.41
-
Original price
$382.03
SKU
LED-TS2835-600-24-RGB-CCT-2700/6000
LED strip only ~ Profile, channel, covers, end caps and all other accessories are sold separately
Description

RGB CCT LED Strip ~ Strelitzia Series

The RGB CCT LED Strip from the Strelitzia Series is a versatile lighting solution that offers a wide range of colors and temperatures to suit any environment. The strip features a unique design that includes both RGB (Red, Green, Blue) and CCT (Correlated Color Temperature) LEDs, providing users with the ability to adjust the color and temperature of their lighting according to their needs.

The Strelitzia Series RGB CCT LED Strip is also designed with convenience and ease of use in mind. Users can easily install the strip with its adhesive backing, enabling them to quickly and effortlessly add vibrant and adjustable lighting to any space. Additionally, users can adjust the brightness of their lighting as needed since the strip is fully dimmable.

The Strelitzia Series RGB CCT LED Strip is also ideal for a variety of applications, including home and office lighting, accent lighting, and even mood lighting. Moreover, its versatile color and temperature options make it perfect for creating the perfect ambiance for any occasion. Additionally, the strip is energy-efficient, making it a cost-effective solution for all your lighting needs.
---
General specifications

Wattage: 14.4W/m (4.39W/ft)
120 LEDs per meter
OSRAM LEDs binned in 3 MacAdam steps
Colour temperature adjustable (CCT)
LED strip efficiency up to 68 lm/W
High color rendering index CRI Ra80 +
12 mm wide LED strip
Protection against polarity reversal
Thermally conductive adhesive backing tape for easy surface installation
IP20 or IP68 Ingress Protection Rating
Can also be cut at every 125mm (4.92")
packed on 5m (16.4') rolls
Long rolls can be specially ordered
Designed and manufactured in Europe for Wired4Signs USA.
---
Downloads
---
Important notes

Attention resellers and manufacturers - Bulk pricing is available on request. Moreover, for larger orders, we offer additional discounts and customized pricing to fit your project needs.
We ship items in stock the same day from Knoxville, Tennessee, United States. Additionally, our team dedicates themselves to carefully packing and safely delivering all packages to their destination.


This Product is dimmable.


---
What makes us different from others?

High CRI LED Strip not made in China
Factory with over 20 years of experience in the lighting market
Carefully selected components from leading brands
Designed by engineers with many years of experience
All production batches go through a 5-step quality control
Our High CRI LED Strip rolls are available in 16.4ft and bulk led strip 328ft rolls(on demand)
5year warranty
---
The natural color of light



A high color rendering index is friendly for eyes and gives true-color rendering of illuminated objects. The color rendering index (CRI) is also much higher comparing to cheap products from Asia. Color rendering index CRI (Ra) in simple words measures the ability of a light source to accurately reproduce colors.

In addition, it's important to note that a value of CRI = 100 is the maximum value and determines the ideal color rendering. In practice, CRI> 80 also provides accurate color rendition for us to feel comfortable with as we see the colors of objects around us look natural.

However, the cheaper LED strips have usually CRI under 70, causing the color of light to irritate us and making it difficult to recognize the colors of well-known objects. As a result, customers often refer to this as the "light like in the morgue". This phenomenon is often identified with the white cold color, but in reality, it's the low CRI rating of cheap LED products that causes this issue.
Shipping restrictions

We cannot ship rigid items over 2.4m (8ft) in length due to freight restrictions. These products are offered for customer pickup only. Please refer to our Shipping Policy for further information.