RGBW 5-Ch Wi-Fi LED Controller ~ wLightBox by BleBox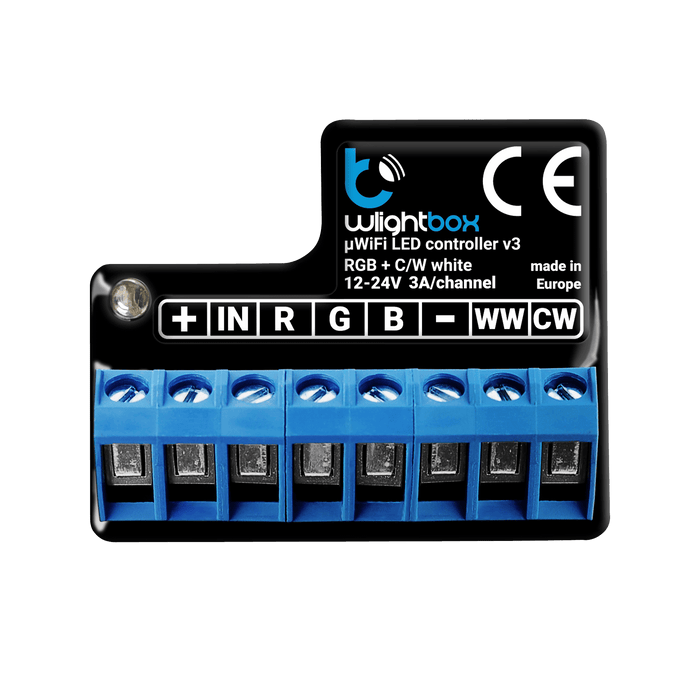 RGBW 5-Ch Wi-Fi LED Controller ~ wLightBox by BleBox
Original price
$57.67
-
Original price
$57.67
RGBW 5-Ch Wi-Fi LED Controller only ~ all the components are sold separately
Description

wLightBox WiFi controller by BleBox, the ultimate solution for effortless control of your colored LED lighting. With adjustable brightness, color temperature, and also the ability to customize colors, the wLightBox offers unparalleled flexibility. Choose between various operating modes like RGB, RGBW, and RGBCCT to suit any mood or occasion. Create captivating lighting effects, schedule automatic transitions, and enjoy voice light control compatibility with Google Home and Amazon Alexa.

This versatile 5 channel WiFi controller is perfect for illuminating various spaces, from suspended ceilings, kitchen counters to clubs, shop windows and bedroom LED light strips in room. Connect additional devices like motion detectors or physical control buttons to enhance your control options. Whether you need decorative lighting or want to create the perfect ambiance for aquariums or terrariums, the wLightBox is your go-to solution.

Experience a vibrant spectrum of colors with RGB mode, independent control of white channel brightness in RGBW mode, and the ability to adjust color temperature in RGBCCT mode. Also energize your workspace with cool white shades and relax with warm tones in the evening. With gentle brightening and smooth transitions, the wLightBox enhances your lighting experience. Say goodbye to limitations and embrace limitless possibilities with the wLightBox WiFi controller.
---
General specifications

Supply voltage: 12 to 24V
Energy consumption: < 1W
Number of channels: 5
Maximum current: 15A (3A / channel)
Color mode: RGB / RGBW / RGB or W / RGBCCT (RGBWW) / CCT / 2x CCT / 5x MONO
Transmission frequency: 2.4GHz
Compatible devices and systems: Apple iPhone, Apple iPad, iPad Mini, Android, computers and mobile devices supporting HTML5
---
Downloads
---
Important Notes

Items in stock are shipped the same day from Knoxville, Tennessee, United States.
Bulk pricing is available on request
Shipping restrictions

We cannot ship rigid items over 2.4m (8ft) in length due to freight restrictions. These products are offered for customer pickup only. Please refer to our Shipping Policy for further information.