White High CRI IP20 LED Strip (24V) ~ White Iris Series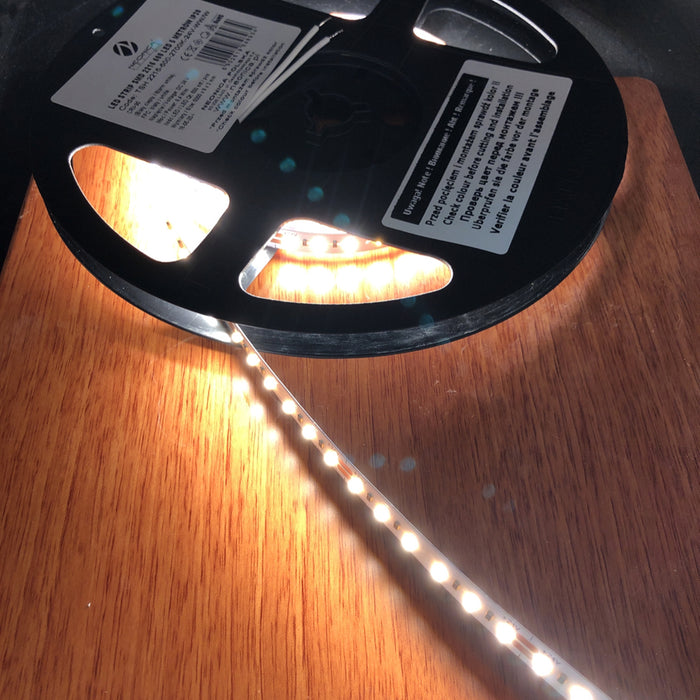 White High CRI IP20 LED Strip (24V) ~ White Iris Series
Original price
$0.00
-
Original price
$3,812.60
LED strip only ~ Profile, channel, covers, end caps and all other accessories are sold separately
Description

White High CRI IP20 LED Strip (24V) ~ White Iris Series

Our White Iris Series high CRI IP20 LED strip offers a color rendering index of Ra90+ guaranteeing excellent lighting and consistent color rendering. This high quality LED lighting tape is the ideal light source for professional indoor linear lighting application and offers stable performance and long lifetime due to top quality LED chips and think FPC.

The White Iris white LED strip is offered with a selection of output ratings from 60 LEDs per meter (4.8W/m) to 180 LEDs per meter (12.8W/m) and in color temperatures from ultra warm white (2700K) through to cool white (6000K). Read our explanation of LED color temperature, or Kelvin ratings, and see what the different colors look like.
---
General specifications

High CRI LED Strip chip: SMD 2216
TAA compliant LED Strip
Colors available: 2700 Soft white, 3000k Warm white, 4000K Natural white, 6000K Cool white
Dimmable: Yes
Supply voltage: 24V DC
LED density: 60, 120 and 180 LEDs/m (18, 36 and 54 LEDs/ft)
Power consumption: 60 LEDs/m at 4.8W/m, 120 LED/m at 8.4W/m and 180 LEDs/m at 12.8W/m
Luminous flux: 120 LED/m at 1000lm/m and 180 LEDs/m at 1350lm/m
Luminous efficiency: 120 LEDs/m at 119lm/W and 180 LEDs/m at 105lm/W
LED strip dimensions: 120 LEDs/m 8mm x 1.4mm and 180 LEDs/m 10mm x 1.4 mm
Cutting pitch: 120 LEDs/m every 50mm (2") and 180 LEDs/m every 33mm (1.3")
IP rating: IP20 non-waterproof
Mounting method: 3M double-sided adhesive tape
Power up to 8-10m of LED strip at 24V from one side without any visible loss of light at the end (double that amount when powering from both sides).
High CRI LED Strip (CRI 90+)
100m (328ft) bulk led strip rolls available
Look at our blog to see the White Iris 4000K LED strip in action
---
Downloads
---
What makes us different from others?

High CRI LED Strip not made in China
Factory with over 20 years of experience in the lighting market
Carefully selected components from leading brands
Designed by engineers with many years of experience
All production batches go through a 5-step quality control
Our High CRI LED Strip rolls are available in 5m (16.4ft) and contractor bulk LED strip 100m (328ft) rolls (on demand)
>5 year warranty
Our LED strip is stocked and shipped from Knoxville, Tennessee, USA
---
The natural color of light

A high color rendering index is friendly for eyes and gives true-color rendering of illuminated objects. The color rendering index (CRI) is much higher comparing to cheap products from Asia. Color rendering index CRI (Ra) in simple words measures the ability of a light source to accurately reproduce colors. A value of CRI = 100 is the maximum value and determines the ideal color rendering. In practice, CRI> 80 provides accurate color rendition for us to feel comfortable with as we see the colors of objects around us look natural. The cheaper LED strips have usually CRI under 70, the color of light irritates us and we stop recognizing the colors of well-known objects. Customers often refer to this as the "light like in the morgue". This phenomenon is often identified with the white cold color, but this is not the true reason - it is in fact the low CRI rating of cheap LED products.
Shipping restrictions

We cannot ship rigid items over 2.4m (8ft) in length due to freight restrictions. These products are offered for customer pickup only. Please refer to our Shipping Policy for further information.