Casambi 4-Channel Bluetooth Mesh LED Controller ~ Model CBU-PWM4 (UL Listed)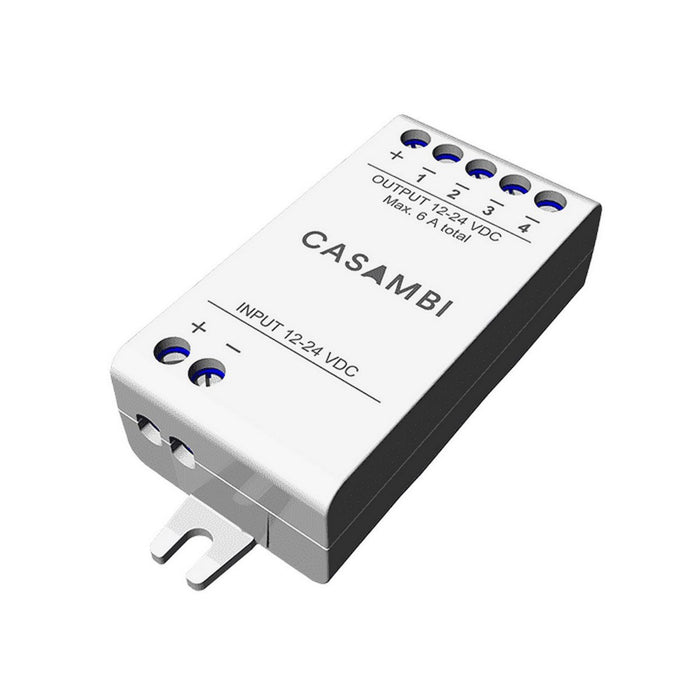 Casambi 4-Channel Bluetooth Mesh LED Controller ~ Model CBU-PWM4 (UL Listed)
Original price
$86.49
-
Original price
$86.49
Casambi 4-Channel Bluetooth Mesh LED Controller (UL Listed) only ~ power supply, LEDs and all other accessories can buy separately
Description

Easy, wireless multi-zone LED control from your smartphone... What more could you ask for?

This is a UL Listed model of our of Casambi-enabled LED controller. It can drive up to four LED channels in user-programmable configurations, making it ideal for just about any wireless LED control system, whether simple dimming, tunable white, RGB or RGB+W.

Also, the wireless Bluetooth mesh system allows up to 255 controllers to be installed in one network, which means you can easily create a multi-zone wireless LED lighting control system to exactly suit your requirements.

The UL Listed controller is a compact 96W 4-channel dimmer which is fully compatible with the Casambi CBU-PWM4 and Tridonic basicDIM PWM CV 4CH controllers.

This small wireless LED dimmer/controller is also intended to be used with dimmable constant-voltage LED strips or modules. Installation is straight forward: Simply connect a constant-voltage LED driver (12-24V DC Class 2) to the supply side of the controller, and then connect your LED channels on the output side of the controller, up to a maximum of 96W total.

Once the wireless controller has been wired, you can download the Casambi smartphone app free of charge for Android or your iPhone.

This 4-channel LED controller also suitable for indoor applications. We also offer waterproof equivalent for outdoor applications - please see our waterproof IP65 wireless 4-channel LED controller.

 
---
General specifications

Model: Arditi CA-

DEBTPRO14-96

Also known as

: Casambi CBU-PWM4, Tridonic basicDIM Wireless PWM CV 4CH
LED applications: Single-color dimming, Tunable white (TW/CCT), RGB, RGB+W
Compatible systems: Dali, Phillips Hue Compatible, and many other systems
Also controllable via wall switch RWBT and Xpress RW…EBT
Input Voltage range: 12-24V DC, Class 2
Max. input current: 4A
No-load standby power: < 0.3 W
Output voltage: same as the input voltage
Max. output power: 96W at 24V DC / 48W at 12V DC
Max. output current: 4A total
Min. load requirement: 0W
Electrical protection: Over-voltage, Over-current, Short circuit
Dimming method: Pulse Width Modulation (PWM) 400Hz
Radio transceiver operating frequencies: 2.4-2.483 GHz 4dBm
Operating temperature, -4-113°F (-20-45°C)
Dimensions: 73 x 30 x 18mm (2.9 x 1.2 x 0.7")
Approvals: UL Listed

 
---
Instructions

 
---
Downloads

 
---
Important notes

Do not insert switches into the secondary circuit
Please add a comment in the order notes if you require your controller pre-configured for a specific application.
LED strip, covers, mounting brackets, end caps, shelf/sign panels, and other accessories are also sold separately.
We can also assemble a plug-and-play light fitting with this controller according to your specifications.
Items in stock can shipped the same day from Knoxville, Tennessee, United States.
Bulk pricing is available on request

 
---
Common search terms

UL Listed Multi-zone LED dimmer, UL Listed Wireless LED controller, UL Listed Bluetooth LED controller, UL Listed Wireless RGB controller, UL Listed Wireless LED dimmer, UL Listed RGB LED dimmer, UL Listed Smartphone LED controller, UL Listed Android RGB controller, UL Listed iPhone RGB controller, Casambi CBU-PWM4 LED controller, Tridonic basicDIM Wireless PWM CV 4CH
Shipping restrictions

We cannot ship rigid items over 2.4m (8ft) in length due to freight restrictions. These products are offered for customer pickup only. Please refer to our Shipping Policy for further information.