RGB COB IP20 LED Strip (24V) ~ Black Cherry Frost Series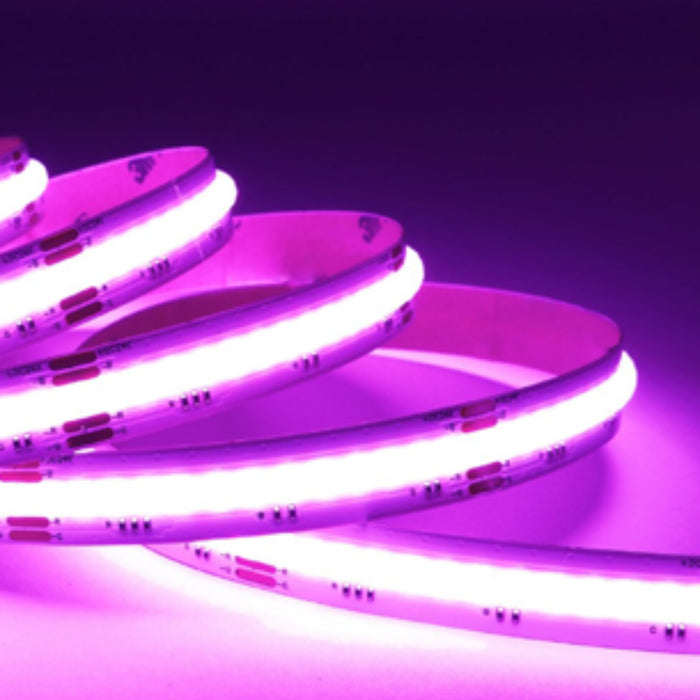 RGB COB IP20 LED Strip (24V) ~ Black Cherry Frost Series
Original price
$13.07
-
Original price
$214.50
LED strip only ~ Profile, channel, covers, end caps and all other accessories are sold separately
Description

The Black Cherry Frost Series RGB COB LED Strip is an innovative lighting solution that combines a stunning design with advanced LED technology. This product is manufactured by Neonica in Poland, a reputable manufacturer known for producing high-quality LED lighting solutions.

The cob LED strip features a high density of 630 LED chips per meter and operates on a 24-volt LED strip, providing stable and reliable power for longevity and durability. The flexible cob LED strip design allows for easy installation and compatibility with a wide range of applications.

The Black Cherry Frost Series RGB COB LED Strip is a cuttable LED strip, allowing for customization of the length to suit any space or application. It also features continuous light and a dimmable feature, offering versatile lighting options that can be tailored to any occasion.

In summary, the Black Cherry Frost Series RGB COB LED Strip is a high-quality and versatile lighting solution that is perfect for a wide range of applications. With its advanced LED technology, continuous light, and dimmable feature, this product offers superior performance and customization options. Plus, as a product manufactured by Neonica in Poland, you can trust that you are receiving a quality product from a reputable manufacturer.

These LED strips can be controlled by our Casambi PWM RGB controllers or the BleBox WiFi RGB controllers, allowing you to adjust the lighting to your preferences with ease.

The Casambi PWM RGB controllers are a great option for those who want to control their lighting from a smartphone or tablet. These controllers offer a range of features, including dimming, color temperature control, and the ability to create custom lighting scenes.

The BleBox WiFi RGB controllers, on the other hand, offer even more control over your lighting. With these controllers, you can adjust the color and brightness of your lights, set schedules, and even control your lights with voice commands using Amazon Alexa or Google Assistant.

Note: Due to the large concentration of LED chips, it is recommended to install sections no longer than 16 feet per power feed. If longer lengths of this strip are powered from a single point, there will be too much power drawn through the diodes and the strip will fail.
---
General specifications

Wattage: 14W/m
630 LEDs per meter
LED strip width: 10mm
LED strip efficiency up to 38 lm/W
Dimmable: Yes
Supply Voltage: 24V DC
Cutting pitch: 33.3mm
Beam angle: 120°
Protection rating: IP20
---
Downloads
---
What makes us different from others?

High CRI LED Strip not made in China

Factory with over 20 years of experience in the lighting market

Carefully selected components from leading brands

Designed by engineers with many years of experience

All production batches go through a 5-step quality control

Our High CRI LED Strip rolls are available in 16.4ft and bulk led strip 328ft rolls(on demand)

 

5year warranty
---
The Natural color of light

Friendly for eyes, true-color rendering of illuminated objects. The color rendering index (CRI) is much higher comparing to cheap products from Asia. Color rendering index CRI (Ra) in simple words measures the ability of a light source to accurately reproduce colors. A value of CRI = 100 is the maximum value and determines the ideal color rendering. In practice, CRI> 80 provides accurate color rendition for us to feel comfortable with as we see the colors of objects around us look natural. The cheaper LED strips have usually CRI under 70, the color of light irritates us and we stop recognizing the colors of well-known objects. Customers often refer to this as the "light like in the morgue". This phenomenon is often identified with the white cold color. But this is not the right reason it is Low CRI.
---
Frequently Asked Questions

Q: What is a COB LED strip?
A: COB stands for "Chip on Board," which means that multiple LED chips are packaged together on a single circuit board. This design results in a high density of LED chips and a more uniform light output.

Q: How do I install the Black Cherry Frost Series RGB COB LED Strip?
A: The LED strip comes with an adhesive backing, making it easy to attach to any surface. Simply peel off the backing and stick the LED strip in place

Q: Can I cut the LED strip to a shorter length?
A: Yes, the Black Cherry Frost Series RGB COB LED Strip is a cuttable LED strip, allowing you to customize the length to your specific needs.

Q: Can I control the brightness of the LED strip?
A: Yes, the LED strip features a dimmable feature, allowing you to adjust the brightness to your preference.
---
Common search terms

Can you cut LED light strips, cob LED strip, Cuttable LED strip, Continuous light, Dimmable LED strip lights, Led cob strip, 24 volt LED strips, Cob LED light strip, Flexible cob LED strip, Wholesale RGB cob LED strip, RGB cob LED strip, RGB cob LED strip manufacturer, Cob RGB LED strip light, COB strip led how much voltage, Cob LED strip RGB, Cob RGB LED strip, What is a cob LED strip, RGB cob LED light strip
Shipping restrictions

We cannot ship rigid items over 2.4m (8ft) in length due to freight restrictions. These products are offered for customer pickup only. Please refer to our Shipping Policy for further information.