Garage Parking Assist and Occupancy Sensor ~ parkingSensor by BleBox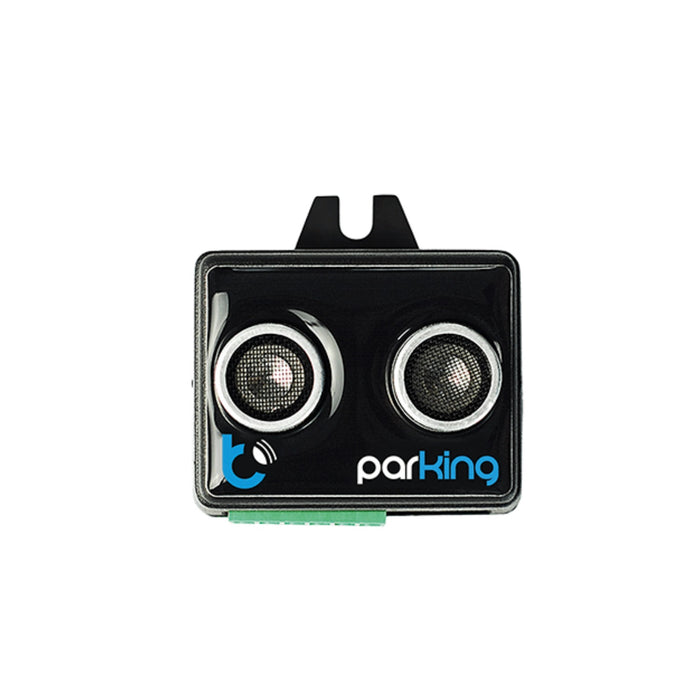 Garage Parking Assist and Occupancy Sensor ~ parkingSensor by BleBox
Original price
$63.74
-
Original price
$63.74
Garage Parking Assist and Occupancy Sensor only ~ LEDs and all other accessories are sold separately
Description

Parking your car has never been so easy or safe: This smart parking distance sensor for your garage or carport measures the distance to your approaching vehicle and illuminates a color-changing light to intuitively indicate the parking distance. Using ultrasonic technology, this garage smart park also assist sensor can "see" just how far away your vehicle is and starts alerting you from over 4ft away.

In addition, this small garage parking distance sensor can be combined with any RGB LED strip light or RGB LED module to create your own custom car garage parking assist sensor. Mounting this parking occupancy sensor is quick and easy and does not require complicated setup before you can start using it to help you park your vehicle.

Furthermore, this proximity sensor for cars is the best garage parking assistant, beating those old-school tricks like hanging a tennis ball from the ceiling or using foam bumper strips to "park by feel". Since this parking assist for your garage measures to the nearest point on the vehicle rather than the windshield, it can be used whether you park forwards or in reverse and for different vehicles without re-adjustment.
---
Additional information

If you need a parking sensor for your classic car or vintage restoration, this smart parking assist sensor is the solution. No-one wants to modify their classic to fit front or rear parking distance sensors or a backup camera to the vehicle, but nobody wants to bump their pride and joy either.

The answer is to upgrade your classic car garage with garage parking assist lights that can safely guide you and your treasure into the parking bay.

In addition to working as a distance for parking aid, this smart little sensor can also be used as an on/off parking bay occupancy sensor to switch on a parking bay occupied indicator light when a vehicle is present in the bay.

Moreover, the vehicle detection sensor output means that this tiny sensor can be used for a parking lot occupancy detection system at parking garages, malls, airport parking garages, hire car parking lots, and other high density parking application where clear indication is required for parking space occupancy.

Automotive application ideas:

Garage car parking distance assistance sensor
Classic car parking guide
Parking space occupancy sensor
Parking garage occupancy monitoring system

This ultrasonic distance sensor for LED lights doesn't only detect cars, so it can also detect people and other objects. There are many other practical as well as creative uses for this combined distance and occupancy sensor.

Additional application ideas:

Public toilet occupancy sensor
Reactive RGB corridor lights
Outdoor RGB effects lights on trails and paths
---
Parking distance sensor demonstration video
---
General specifications

Supply voltage: 7-24V DC
Energy consumption: <1W
Maximum power: 8A
Maximum voltage: 24V
Distance output: 3-channel PWM
Occupancy output: Open collector (sink 250mA)
Sensor technology: Ultrasonic
Sensing range: 20mm to 2.5m (1" to 8ft)
Dimensions:

Sensor module: 50 x 40 x 25mm (1.97" x 1.58" x 0.98")
With connector: 50 x 50 x 25mm (1.97" x 1.97" x 0.98")

Operating temperature: -10 to +40˚C (14 to 104˚F)
Environmental protection: IP20 (not waterproof)
---
Downloads
---
Important notes

We sell LED strips, covers, mounting brackets, end caps, shelf/sign panels and other accessories separately from the aluminum profile. Therefore, please select the available components below.
We can also assemble a plug and play light fitting with this controller according to your specifications. Therefore, please leave instructions in the order comment box.
We ship items in stock the same day from Knoxville, Tennessee, United States. Additionally, our team dedicates themselves to carefully packing and safely delivering all packages to their destination.
Bulk pricing is also available on request.
---
Frequently asked questions

Q: This looks like a sensor only. Then what else will I need?
A: You are correct - this is only a sensor. At a minimum, you will also need a power supply and RGB strip or an RGB LED module. We recommend that you mount RGB strip in a suitable LED channel to protect it and it will look much more professional too.

Q: How does this sensor measure the distance to the vehicle?
A: This smart parking sensor uses ultrasonic technology to measure the distance to an obstacle. This is also the same technology that automotive backup sensors use.

Q: How does this parking aid guide the driver?
A: This parking space sensor also drives an RGB LED light. It first illuminates green when it detects a vehicle, and then blue as the car gets closer, and then final red in the closest zone.

Q: I am the DIY type, can I install this sensor myself?
A: Yes, provided you have a power socket nearby you could easily install this sensor yourself using a simple wall-plug DC adaptor, some RGB LED strip (we sell per foot), and a suitable LED channel.

Q: What type of LED should I use for the parking bay occupancy lamp feature?
A: The occupancy output of this vehicle detection sensor is a single channel, so it only controls one color. In the simplest form, a single-color LED module would work, or if you want a more refined aesthetic then single color LED strip in a short length of channel would create a neat indicator. Our LED light tubes can also be used to create highly visible indication lamps.
---
Common search terms

In-ground parking sensors, Parking detection, Parking garage sensor system, Parking lot sensor, Smart parking sensors, Vehicle detection sensors, Parking lot occupancy sensors, monitoring system, Parking lot occupancy Parking occupancy detection, Parking garage space sensors, Parking occupancy sensors, Parking space monitoring system, Parking space sensor, Parking spot sensor, Garage parking sensor, Ultrasonic parking distance sensor

 

 

 
Shipping restrictions

We cannot ship rigid items over 2.4m (8ft) in length due to freight restrictions. These products are offered for customer pickup only. Please refer to our Shipping Policy for further information.